SPECIAL OF THE WEEK
$49.95

More information
Dial Indicator, Test Indicator, Magnetic Base & Point Set
1927 H/V 4" Rotary Table
1799 Dividing plate set
1800 Tailstock

Makes tool changes easier, faster, and more convenient
Frees up both hands for making tool changes.
Electro-magnetic interlock disables power to the motor with the fork of the Spindle Brake engaged.
Fits Grizzly G0463 (X3) Mills
Made in precision machining centers in the U.S.A.

Makes tool changes faster, more convenient, and safer
Replaces the pin spanner wrench
Fits the Grizzly G0619 (SX3) mill
Tighten collet chucks with one hand
Works with Tormach TTS quick change tooling system

LittleMachineShop.com focuses on replacement parts and accessories for 7x10, 7x12, 7x14, and 7x16 Lathes; Mini Mills; and Micro Mills.
We stock every part for the mini lathes, mini mills, and micro mills from LittleMachineShop.com, ToolsNow (Cummins), Grizzly, Harbor Freight, Homier, and Micro-Mark. Go ahead: break any part on your machine. We have a replacement. Our Replacement Parts page makes it easy to find the part you need. We even have the parts diagram if you don't know the name of the part.
Join Our E-Mail List
We'll let you know about new products and special offers for preferred customers. Like you, we hate spam. Here's our pledge to you:
We won't overload your inbox. Don't expect to see more than about two messages per month.

We won't use your address for any other purpose or release it to anyone else for any reason.

We'll promptly honor all "unsubscribe" requests.
Sound okay? Then click here to join.
Chris' Tips
Experience has taught me a lot of tips, tricks, and workarounds for using mini lathes and mini mills. Throughout the product pages on this site, look for "Chris' Tips," where I share these little pearls of wisdom.

--Chris Wood, Founder
Payment Options
We accept credit and debit card payments through a secure server.
We accept payments via PayPal.
We accept personal checks, company checks and money orders.
Read more about our payment options.
What our customers say:
"Just thought I'd drop you a line and let you know that the AXA tool holder kit I'd ordered last Friday was waiting on my kitchen counter for me Monday! US mail no less! The tool holder looks & works great. This definitely won't be my last order from you fine folks. Thanks."
Mark B, 18-Mar-2015
What's New!
Full-Featured Mini Lathes and Mini Mills at a Great Price!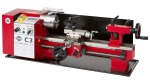 We are now offering SIEG Mini Lathes and SIEG Mini Mills. These machines offer all the features you expect from LittleMachineShop.com except for the HiTorque drive system. Our special arrangement with the factory allows us to offer these machines at very low prices. If you want to get started, but can't afford a HiTorque machine, these machines are the answer.
3rd Party Review
Major Pandemic uses the HiTorque Mini Mill to make everything from AR15 lower receivers to luggage tags, as explained in this 2014 review.
See what Frank Hoose of Mini-Lathe.com thinks of our solid column HiTorque Mini Mill in his review of the model 3960.
The Micro Mill Is Back--and Much Better, Thank You!
The X1 micro mill was a popular machine in hobbyists' garages, packing a lot of capability into a small footprint. All the vendors of the original micro mill have discontinued sales, however. Now there's a new LittleMachineShop.com HiTorque Micro Mill, a version of the SIEG SX1P. This isn't your father's micro mill.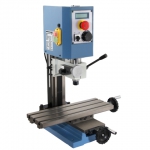 Like its bigger brethren, the LittleMachineShop.com HiTorque Micro Mill is the best in its class. It has more power, more torque, and a larger table than other mills of its size. It features a powerful 250W brushless spindle drive motor, which offers tremendous low-end torque, speeds from 100-5000 RPM, and no gears or belts to shift. (No gears also makes it the quietest in its class.) And at 15.7"x5.7", the mill table is huge!
The HiTorque Micro Mill is available in two models: one with a 2 Morse Taper (2MT) spindle, and one with an ER-16 spindle.
Tormach Personal CNC Milling Machines
Tormach's PCNC mills represent a new approach to small and bench top CNC milling machines. Designed for real work, the machines have the strength, power, and accuracy needed to cut serious materials. We carry a full line of Tormach products, including the Tormach PCNC 770 and PCNC 1100 Series 3 milling machines. We have a PCNC 1100 in our showroom for demonstrations. Give us a call and make an appointment to see it cut metal.
International Orders
We ship to most parts of the world. You can place your order on our Web site and choose an appropriate shipping method. The total cost of your order, including shipping and handling, is displayed on the Shopping Cart page before you commit to placing the order.