What's New!
HiTorque Machines In Stock
We have these HiTorque machines in stock and ready for shipment.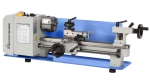 With its 500W brushless DC drive system, the 5100 HiTorque 7x16 Mini Lathe has the most low speed torque of any mini lathe. And features like the 4" 3-jaw chuck, cam-lock tailstock, full half-nuts, and apron gear shield make this lathe unique.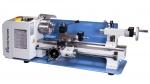 The 7350 HiTorque 7x16 Deluxe Mini Lathe incorporates all the goodness of our 5100 mini lathe, plus it includes an all-steel wedge-style quick change tool post set with five tool holders. In addition, the 7350 features digital readouts on the cross slide, compound rest, and tailstock quill, and it has metal handwheels instead of plastic.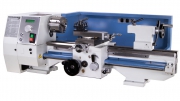 The 7500 HiTorque 8.5x20 Bench Lathe features a power cross feed--a unique feature in lathes of this size. The 1000W brushless spindle drive motor provides tremendous low-end torque and continuously variable speed from 100-2000 RPM in both directions. It features our new control panel, which allows you to stop and then restart the lathe at a pre-selected speed.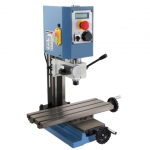 The 4700 HiTorque Micro Mill features a powerful 250W brushless spindle drive motor, which offers tremendous low-end torque, speeds from 100-5000 RPM, and no gears or belts to shift. (No gears also makes it the quietest in its class.) And at 15.7"x5.7", the mill table is huge! It has a 2 Morse Taper spindle for wide tooling availability.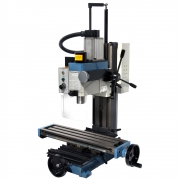 The 3990 HiTorque Mini Mill features an R8 spindle for wide tooling compatibility and a solid column for increased rigidity and reduced chatter. This mini mill has a larger X-Y table and more power (500W brushless DC drive) than its competitors.
Machines Currently Not in Stock
The machine you're looking for isn't shown above? Here is a list of the machines that we don't have in stock at the moment, along with their expected in-stock dates:
HiTorque Lathes
7550 HiTorque Deluxe Bench Lathe, June 16
HiTorque Mills
4190 HiTorque Deluxe Mini Mill, May 28
6500 HiTorque Bench Mill, June 16
6550 HiTorque Deluxe Bench Mill, May 28
6700 HiTorque Large Bench Mill, June 16
6750 HiTorque Deluxe Large Bench Mill, May 28
Be the First to Know When Out-of-Stock Items Are Available
It's frustrating when the item you want isn't available -- but we can at least let you know as soon as we have it back in stock. On the product page, click the Notify Me button and enter your email address. When we receive the items, we'll send you a message. (Be aware that the same message is going out to others who requested notification. So you should probably act quickly or we might be out of stock again before you order.)
There's no obligation to buy, of course; it's simply a notification. And don't worry: We don't use the address you enter for any other purpose or sell it to anyone else.