Quick Change Tool Post Set for Prazi & Emco Lathes 2488
(Discontinued)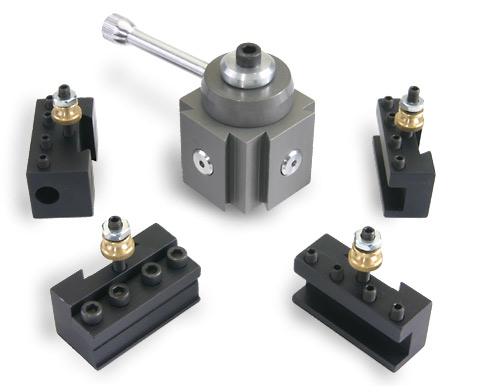 Fits Prazi & Emco lathes
Made from 6061 T6 Aluminum
Hard Anodized for durability and appearance
No tools required to change tools
Additional tool holders available
Part Number: 2488
(Discontinued)
Weight: 1.50 lb
Price: $99.95


This quick change tool post set (QCTP) includes the tool post, mounting hardware, two turning tool holders, a boring tool holder and a cut-off blade holder.
Made by A2Z CNC.
The turning tool holders accept tools up to 3/8" shank. The boring tool holder accepts boring bars with 3/8" shanks. The cut-off tool holder holds 1/2" tall parting blades.
This tool post includes the parts to mount on Prazi SD300 and SD400 lathes, many Emco lathes, and other lathes that secure the tool post with an M8 bolt. On the SD300 you can only use tools with up to 5/16" shank. Fits the Proxxon PD400 with a 1/4" (6 mm) spacer under the tool post.
This fits the Emco Compact 8 with a shop-made center post. See the drawing in Chris' Tips. You can use tool bits up to 5/16" shank, but can't use the cut-off tool holder.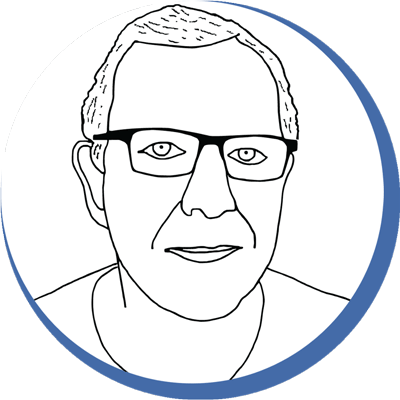 Chris' Tips
See the comparison chart of the quick change tool post sets we carry.A2Z CNC makes versions of this QCTP for many different lathes.To mount this QCTP on an Emco Compact 8, you must make a new center post as shown on this drawing.
Compatibility
This product works with these LittleMachineShop.com products:
This product works with lathes with a M8 Tool Post Mounting including:
Prazi MD200 4x8 Lathe
Grizzly M1015 Shop Fox 6x10 Micro Lathe
Micro-Mark 85181 MicroLux 6x10 Micro Lathe
SIEG C1 6x10 Micro Lathe
Woodstock International M1015 Shop Fox 6x10 Micro Lathe
Emco Compact 5 5x14 Lathe
Prazi SD300 5x12 Lathe
Prazi SD400 7x16 Lathe
Emco Compact 8 8x17 Lathe
BD-920N Jet 9x20 Lathe
Grizzly G4000 9x19 Bench Lathe
Harbor Freight 45861 Central Machinery 9x20 Bench Lathe
Prazi SD500 10x20 Lathe