Digital Position Readout | Digital Readout Kit
(Discontinued)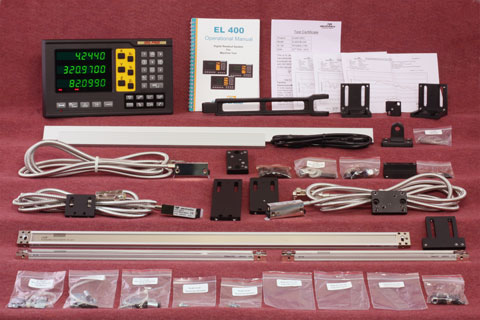 Magnetic scales can be cut to exact length you need
Easy to use. More buttons, most intuitive layout--just walk up and operate
5 micron (0.0002") resolution
Clearly-written full-color manual and Lifetime warranty
Part Number: 4239
(Discontinued)
Weight: 24.0 lb
Price: $1,215.00


The DRO PROS EL400 three-axis mill package includes everything you need: the display head, 3 magnetic scales 12" x 30" x16" maximum travel, detailed installation instructions, a detailed full-color operator's manual, Lifetime warranty, mounting arm, mounting hardware, and universal mounting brackets. Additionally, the display has a USB port on the back, ensuring it won't become obsolete when a new software update is released.
Magnetic scales are impervious to liquid yet they are slimmer than glass scales. They're easier to mount and more durable than other scales. Simply cut the scales to the length you need and mount them. See the instructions on the Chris' Tips tab.
This digital readout kit includes the following features: half function, inch/metric conversion, absolute/incremental modes, axis home reference, machine reference, sub datums, bolt-hole circle (pcd), arc bolt hole, arc contouring, grid hole function, line hole function, calculator (trigonometric), encoder fail detection, memory backup.
Operates on 120V or 240V AC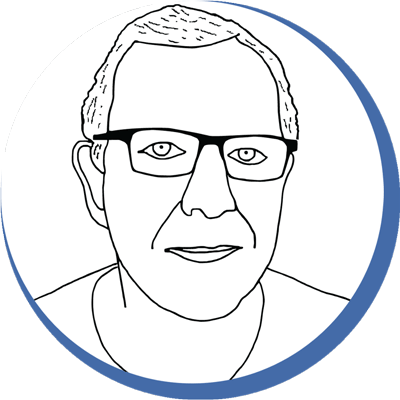 Chris' Tips
One of the major advantages of magnetic scales is the ability to cut them to exactly the length you need. Here are instructions on how to cut magnetic scales.Scale-Based DRO Packages are designed to mount on any machine within the range of the scales. They all come with 'universal' mounting brackets. These mounting brackets are probably all you need to mount the DRO on large machines. On smaller machines (including mini lathes and mini mills) you will probably need to make some mounting brackets. Note that the Bluetooth DRO packages, except the universal models, come with all the brackets required for the machines they support. All scale-based DRO installations require drilling and tapping a number of holes in the machine. The biggest challenge is usually the cross slide on small lathes and the X-axis on small mills. On small lathes, the answer is sometimes to mount the DRO scale hanging in space behind the cross slide. On small mills, the smaller cross section of the Shooting Star and the DRO Pros magnetic scales can make it significantly easier to mount the X-axis scale behind the table without restricting the table travel. Glass scales are a challenge to mount on small machines.
Half Function
Inch/metric conversion
Absolute/incremental modes
Axis home reference
Machine Reference
Sub Datums
Bolt-hole circle (PCD)
Arc Bolt Hole
Arc Contouring
Grid Hole function
Line Hole function
Calculator (Trigonometric)
Encoder fail detection
Memory backup
Specifications

| | |
| --- | --- |
| Repeatability | 10 microns |
| Resolution | 5 microns |
| Specified Accuracy | 15 microns / 1 m travel |
| Accuracy / Foot | 0.0002" (0.005 mm) |
| Accuracy / 100 Mm | 0.0001" (0.002 mm) |
| Scales Cut to Length by User | Yes |
| Scale Technology | Magnetic |
| Scale Protection | Coolant & dust proof to IP67 |
| Voltage | 120-240 V |
| Clear to Zero | Yes |
| Direct Entry of Position | Yes |
| Inch/mm Display | Yes |
| Power Off Memory | Yes |
| Reversible Count Direction | Yes |
| Find Center | Yes |
| Bolt Circles | Yes |
| Bolt Lines | Yes |
| Preset Points | Yes |
| Tool Offsets | No |
| Radius/Diameter | Yes |
| Incremental/Absolute | Yes |
| Calculator | Yes |
| Arc Machining | Yes |
| Linear Error Compensation | Yes |
| Made In | India |
| Warranty | Lifetime |
| Phone Tech Support | Free |
This item ships directly from our supplier in California to you. It might be a day or two longer before it ships, and you will receive it in a separate package from other items on your order. You might receive this item a few days before or a few days after you receive items shipped from our warehouse.