Tooling Package, ER-16 Micro Mill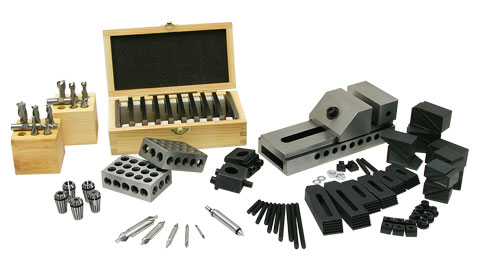 3" toolmakers screwless vise and 10 pairs of 3" long thin parallels
Precision 1-2-3 blocks and 36-piece clamping kit - 8 mm T-slot
Two 6-piece end mill sets, 2 & 4 flute and 5 center drills
Five piece ER-16 collet set
Combination edge and center finder
Part Number: 4759
Weight: 22.8 lb
$
329.95
Value Price
Purchased individually $361.79
This product is currently backordered.
Estimated availability:
Unknown
What is "estimated availability"?
Click this button if you want to receive an email notification when this product becomes available.

Tooling package with all the essentials for an ER-16 Micro Mill.
Toolmakers Vise: 3" toolmakers screwless vice has a one-piece body. The body and jaws are hardened to Rc 58-62. All sides are flat, square and parallel to 0.0002". There are horizontal and vertical vees on the inside face of the movable jaw to hold round objects. The vise jaws are 1.38" deep and open to 3.78" capacity. The vise is 7.28" long, 2.76" tall and 2.785" wide.
Thin Parallels: Set of ten pairs, 1/8" thick x 3" long, in fitted case. Made of high-grade alloy steel hardened to 52–58 Rc, parallel within 0.0002" on top and bottom. Parallel heights: 1/2", 5/8", 3/4", 7/8", 1", 1-1/8", 1-1/4", 1-3/8", 1-1/2", and 1-5/8" (pairs matched within 0.0004").
Clamping Kit: 36-piece kit fits 8 mm T-slots on a micro mill. Includes 10 M6 studs, 4 step block pairs, 6 T-slot nuts, 6 flange nuts, and 6 step clamps.
End Mills: 6-piece 4 flute & 6-piece 2 flute, HSS, center cutting end mill sets. Sizes 1/8", 3/16", 1/4", 5/16", 3/8", and 1/2". All with 3/8" shanks.
ER-16 Collets: Set of five ER-16 round collets. Sizes: 1/8", 3/16", 1/4", 5/16", and 3/8". Made of high-grade tool hardened steel, ground to close tolerance, this set includes the sizes required for most common end mills.
1-2-3 Blocks: Ground and hardened on all sides to 50-60 RC, sizes 1" x 2" x 3". Parallel within 0.0002", flat within 0.0002", and square within 0.00021". Set has two matched blocks, 23 holes of which 5 are threaded 3/8"-16 NC.
Center Drills: Five sizes combined drills and countersinks made of high speed steel. Sizes 1, 2, 3, 4, and 5 with 60 degree counter sinks.
Compatibility
This product works with mills with a ER-16 spindle taper including:
Taig 2018 Micro Mill
Taig 2019 Micro Mill
Taig 5019 Micro Mill
LittleMachineShop.com 4660 HiTorque Micro Mill