Ball and Radius Turning Tool, Repton RT1 4920
(Discontinued)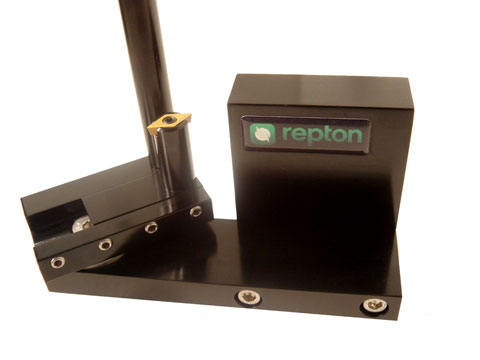 Cuts convex and concave shapes up to 2.3" (60 mm) diameter
Mounts in standard quick change tool holders
Uses DCMT-32.51 insert
Works on lathes with 7" to 16" swing
Repton RT1ball and radius turning tool can create balls up to 2.3" (60 mm) in diameter and will also turn concave radii up to 2.3" (60 mm) in diameter.
The Repton RT1ball and radius turning tool is unique in the way that it mounts in the tool holder of the lathe. Unlike many ball turners it does not require removal of the tool post to mount. It is possible to swap in between the RT1 and other turning tools in seconds. The RT1 mounts in a standard quick change tool holder.
The Repton RT1 needs certain clearances to work properly. From the bottom surface in the tool mount (the surface that the tool sits on) you need 2.68" (68 mm) of clearance above the ways. The tool tip sits 10mm higher than the tool mount surface so you need the capability of using 10 mm tool bits. This means that you probably need a quick change tool post to use this on a mini lathe as most are designed for 5/16" (8 mm) tools. The RT1 has been used on mini lathes and lathes up to 16" swing.
The RT1 uses a DCMT-32.51 or DCMT-32.52 carbide insert. One DCMT-32.51 insert is included.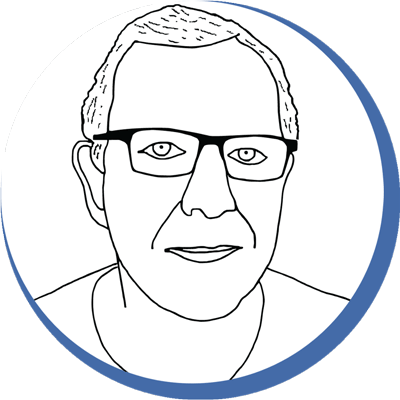 Chris' Tips
Here's a comparison of the ball and radius turning tools.This item comes with printed instructions for setup and use.
Here's a video showing how to set the diameter.

This video shows turning a concave radius.
Specifications

| | |
| --- | --- |
| Maximum Convex Diameter | 2.36" (60.0 mm) |
| Maximum Concave Diameter | 2.36" (60.0 mm) |
| Minimum Convex Diameter | 0" (0 mm) |
| Minimum Concave Diameter | 0" (0 mm) |
| Tool Dimensions (L x W x H) Without Handle | 6" x 1" x 4" (145 mm x 38 mm x 92 mm) |
| Mount Dimensions (L x W x H) | 2" x 1" x 2" (60 mm x 16 mm x 60 mm) |
| Handle Length | 6" (150 mm) |
| Handle Height | 6" (150 mm) |
Compatibility
This product works with lathes with a 7 to 16 inch swing including:
Enco 110-0803 Enco 7x10 Mini Lathe
Harbor Freight 33684 Central Machinery 7x10 Mini Lathe
Harbor Freight 93212 Central Machinery 7x10 Mini Lathe
MSC 0192857 Enco 7x10 Mini Lathe
Bolton CQ9318 7x12 Mini Lathe
Busy Bee Tools CX704 Craftex 7x12 Mini Lathe
Cummins (Tools Now) 5278 7x12 Mini Lathe
Eastwood 32497 7x12 Mini Lathe
Grizzly G8688 7x12 Mini Metal Lathe
Harbor Freight 93799 Central Machinery 7x12 Mini Lathe
Homier 03911 Speedway 7x12 Mini Bench Metal Lathe
Northern Tool 49656 KLUTCH 7x12 Mini Lathe
Princess Auto 8507659 Powerfist 7x12 Mini Lathe
SIEG C2 7x12 Mini Lathe
Tormach 30689 7x12 Duality Lathe
Travers Tools OT222300 OTMT 7x12 Mini Lathe
Warco 3005 7x12 Mini Lathe (Imperial)
Warco 3004 7x12 Mini Lathe (Metric)
WEN 3455 WEN 7x12 Mini Lathe
Micro-Mark 82500 MicroLux 7x12 Mini Lathe
LittleMachineShop.com 4200 HiTorque 7x12 Deluxe Mini Lathe
LittleMachineShop.com 4100 HiTorque 7x12 Mini Lathe
SIEG SC2 7x12 Mini Lathe
Micro-Mark 82710 MicroLux 7x14 Mini Lathe
LittleMachineShop.com 4959 SIEG 7x14 Mini Lathe
SIEG C3 7x14 Mini Lathe
Big Dog BD-0618Ax300 7x14 Mini Lathe
Big Dog BD-0618x300 7x14 Mini Lathe
Warco 4820-350 7x14 Mini Lathe (Metric)
Warco 4800-350 7x14 Mini Lathe (Imperial)
Grizzly G0765 7x14 Mini Lathe
Micro-Mark 84631 MicroLux 7x16 Mini Lathe
LittleMachineShop.com 5100 HiTorque 7x16 Mini Lathe
LittleMachineShop.com 7350 HiTorque 7x16 Mini Lathe
LittleMachineShop.com 5200 HiTorque 7x16 Mini Lathe
Prazi SD400 7x16 Lathe
MX-8x14 Preenex (and others) 8x14 Lathe
Harbor Freight 44859 Central Machinery 8x12 Precision Mini Lathe
Grizzly G0768 8x16 Benchtop Lathe
Emco Compact 8 8x17 Lathe
LittleMachineShop.com 3536 HiTorque 8.5x16 Bench Lathe
SIEG SC4 8.5x16 Bench Lathe
SIEG C4 8.5x16 Bench Lathe
Travers Tools OT218410 OTMT 8x16 Bench Lathe
LittleMachineShop.com 3540 HiTorque 8.5x20 Bench Lathe
LittleMachineShop.com 3595 HiTorque 8.5x20 Deluxe Bench Lathe
LittleMachineShop.com 7500 HiTorque 8.5x20 Bench Lathe
LittleMachineShop.com 7550 HiTorque 8.5x20 Deluxe Bench Lathe
BD-920N Jet 9x20 Lathe
Grizzly G4000 9x19 Bench Lathe
Harbor Freight 45861 Central Machinery 9x20 Bench Lathe
SIEG C6 10x21 Lathe
Busy Bee Tools CX705 Craftex 10x21 Lathe Mill Combo
Grizzly G0516 10x21 Lathe Mill Combo
Prazi SD500 10x20 Lathe
SIEG M6 10x21 Lathe Mill Combo
SIEG C8 11x24 Lathe