Part Number: 4718
Weight: 6.15 lb


Price: $409.95

Share this page:
http://lmscnc.com/4718


FogBuster model 10100 with one spray oultet
1/2 gallon clear coolant tank
Stainless steel handle, nozzle with magnetic stand, and pressure regulator
Reduces airborne pollutants in shop
Description
Half-gallon models are the ideal size for many coolant and lubricant applications. Coolant level can be easily viewed through the clear reservoir. The provided stainless steel handle makes mounting or carrying this spray mist coolant system quick and easy. The hose from tank to nozzle is 5 feet long.
Unlike other mist coolant systems, the FogBuster does not atomize coolant at the nozzle tip. Coolant is carried accurately with the air stream after leaving the nozzle and will produce a small spray pattern from several inches from its target. Greater cooling and lubrication is achieved along with a reduction in coolant waste because virtually all of the coolant is being utilized on the part and tool.
FogBuster offers a wide range of coolant and air flows, will spray virtually any type of coolant or lubricant, and its unique high volume low pressure design operates on only 10 to 20 PSI. Coolant flow is easily adjusted by a precision needle valve at the sprayer head, and can be set from very small amounts to a heavy spray to suit your job application. Air flow is adjusted at the air pressure regulator, and once flows are set sprayer operation is instant with the flip of an air toggle switch conveniently located on your machine or when called for in a program.
Just hook up your air compressor.
Photos
What makes the FogBuster Unique?
The pictures below were taken at the exact same camera settings. As you can see the difference is amazing. The FogBuster produces a unique spray of coolant drops that are too large to float into the surrounding air. The spray mister atomizes coolant so fine that you can literally smell it in the air within seconds after turning it on.
| | |
| --- | --- |
| | Fogbuster spray - Emits drops too large to float into surrounding air. |
| | Spray Mister - Emits fine mist or fog that contaminates surrounding air. |
Fogbuster Installations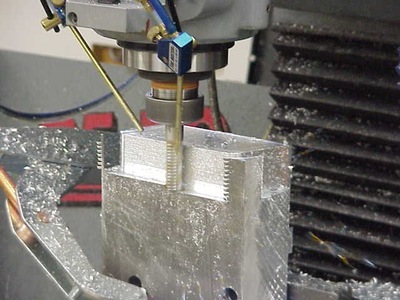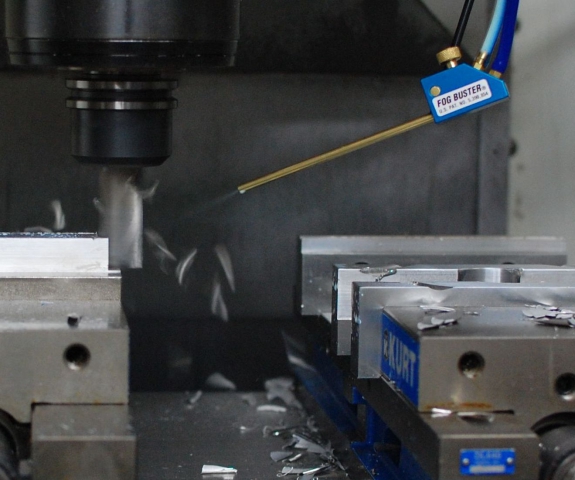 Click here to see the tabs view of this page.