On Sale

Value Packs

New Products

All Products

Catalog

Store Location

Outlet Store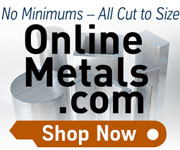 Outlet Store
In our outlet store we offer items that have been returned, have cosmetic blemishes ("scratch and dent"), have been refurbished, are missing a component, or for some other reason are not good enough to be sold as new--all at a greatly discounted price. Unless noted in the description, none of the items have been used, other than during testing and refurbishment. All items are sold "as-is"; there is no warranty. Aside from that, our normal return policy applies; if you don't like an item you purchase from us, return it within 30 days for credit.
All that said, machines that are described as refurbished carry the same limited warranty as the new machines we sell.
HiTorque 7x16 Deluxe Mini Lathe

Slightly used. This came back after some minor use as the customer decided to return it for our larger bench lathe.

Tap, 3-56 Thread

We got in some taps that are marked as 3-48 from the manufacturer, but they are actually 3-56 taps.

Nano Mill

This was a display unit that had some pieces pulled off originally, but we've got it all back together as a complete working nano mill. We've also got some of the pieces for lathe conversion we'll include, but the carriage part of the lathe conversion is missing the top of the compound where the tool post would mount.

HiTorque 8½x20 Bench Lathe

Refurbished following a customer return, it's like new.

Collet Chuck, ER-16, Straight Shank, Professional Grade

Unit is used. The collet nut is a little off kilter. Still a pretty good ER-16 collet chuck if you're ok with a couple thousandths run out. Might be corrected if a new collet nut was installed.

4" Rotary Table W/ Tailstock and Dividing Plates

This was a sample from a supplier. It's a decent table and very similar to our 5603. Included are the tailstock and dividing plates. We just decided not to add it to our line as it was too similar to our 5603.

Advanced AutoCAD 2015

We acquired this book for our shop, but we don't think it's ever been opened. The content should still be relevant since it's only a couple of years out of date.
More closeout products
Hide Thumbnails
$18.95 On Sale

Regularly $49.95

$9.95 On Sale

Regularly $29.95

$64.95 On Sale

Regularly $89.95