Vise, 4" Precision Milling, Heavy, No Swivel Base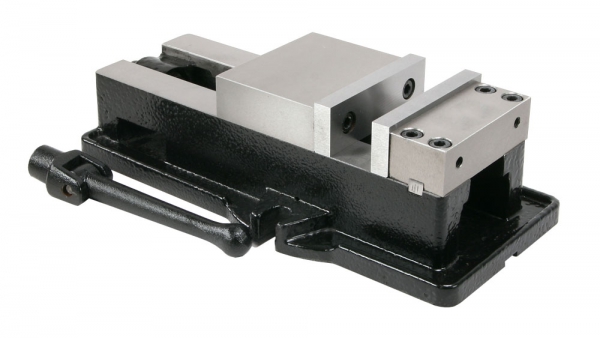 Precision 4" Kurt-style milling machine vise
Ground surfaces
Jaws hardened and ground
Fixed jaw is bolted for enhanced rigidity
Heavy 4" precision milling vise.
The top, bottom of vise bed, gib, jaws, and all plate mounting surfaces are ground. The jaws are hardened and ground. The fixed jaw is bolted from the top for enhanced rigidity.
The jaws are 4" wide, 1.27" deep and open 5.5".
The ways of the drill press milling vise are parallel to the base of the vise within 0.0006" in 4". The jaws are perpendicular to the ways within 0.002" in 4".
Specifications

| | |
| --- | --- |
| Jaw Width | 3.94" (100.0 mm) |
| Jaw Depth | 1.26" (32.0 mm) |
| Maximum Jaw Opening | 5.5" (140 mm) |
| Weight | 24.6 lbs (11.2 kg) |
| Height w/o Base | 3.54" (90.0 mm) |
| Length | 12.8" (325 mm) |
| Width w/o Base | 6.3" (160 mm) |
| Mounting Bolt Centers w/o Base | 5.5" (140 mm) |
| Hold-Down Mechanism | Yes |
| Ways Parallel to Bottom of Vise Within | 0.0006" in 4" (0.015 mm in 100 mm) |
| Jaws Perpendicular to Ways Within | 0.001" in 4" (0.03 mm in 100 mm) |
Compatibility
This product works with these LittleMachineShop.com products:
This product works with the following mills. (If your machine is not on this list, we cannot verify compatibility.)
SIEG X2.7 Bench Mill
SIEG X2.7L Bench Mill
WEN 33075 WEN Bench Mill
LittleMachineShop.com 5500 HiTorque Bench Mill
LittleMachineShop.com 6500 HiTorque Bench Mill
SIEG SX2.7 Bench Mill
LittleMachineShop.com 5550 HiTorque Bench Mill
LittleMachineShop.com 6550 HiTorque Bench Mill
SIEG SX2.7L Bench Mill
Grizzly G0463 Mill/Drill
Harbor Freight 93885 Central Machinery Mill/Drill
SIEG X3 Small Mill
Woodstock International M1110 Shop Fox Small Mill
BusyBee CX611 Craftex Small Mill
Grizzly G0619 Mill/Drill
SIEG SX3 Small Mill
Travers Tools OT2225SX3 OTMT Small Mill
Grizzly G0704 Mill/Drill With Stand
Grizzly G0759 Mill/Drill With Stand
Grizzly G3102 Vertical Mill
Grizzly G3103 Vertical Mill
Harbor Freight 42976 Central Machinery Mill/Drill
SIEG X3.5 Large Bench Mill
LittleMachineShop.com 6700 HiTorque Large Bench Mill
LittleMachineShop.com 6750 HiTorque Large Bench Mill