What's New!
Tariffs Are Back
For over a year, many of our machines were excluded from the 25% additional tariff imposed by President Trump on most goods from China. That exclusion ended in September, and we now pay an additional 25% on those machines, which include mini mills, micro mills, bench lathes, and mini lathes. You know where we're going with this: price increases.
The affected machines are going up in price by about 15%, effective November 10, 2020. The only good news in this announcement is that you can still get the old prices until then. (Sorry, but we're not accepting backorders on machines; the old prices apply only to machines we have in stock. That's because we're paying the higher cost on everything we receive from now on.)
Note that the "old" price is now shown on each product page as a sale price. So that you'll know how prices will change, the post-November 10 price is shown as the regular price.
COVID-19 Update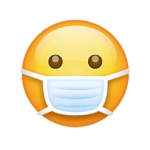 We're getting back to something approaching normal, although it feels different wearing masks, social distancing, disinfecting often, and not having any visitors!
Our website is open for business
Our physical store remains closed until the COVID-19 threat abates
Curbside pickup is available at our Pasadena, California warehouse
UPS has suspended its service guarantee for all shipments
For more details, click here.
Thank you for your patience and for your loyalty. This is obviously a tough time for everybody, and we appreciate your business and your friendship now more than ever.
Please, everybody: Stay well -- and stay home working in your shop! We look forward to the time when we can visit with you in our store.
HiTorque Machines In Stock
We have these HiTorque machines in stock and ready for shipment.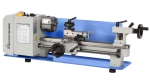 With its 500W brushless DC drive system, the 5100 HiTorque 7x16 Mini Lathe has the most low speed torque of any mini lathe. And features like the 4" 3-jaw chuck, cam-lock tailstock, full half-nuts, and apron gear shield make this lathe unique.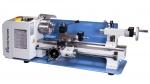 The 7350 HiTorque 7x16 Deluxe Mini Lathe incorporates all the goodness of our 5100 mini lathe, plus it includes an all-steel wedge-style quick change tool post set with five tool holders. In addition, the 7350 features digital readouts on the cross slide, compound rest, and tailstock quill, and it has metal handwheels instead of plastic.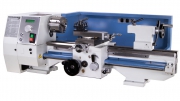 The 7500 HiTorque 8.5x20 Bench Lathe features a power cross feed--a unique feature in lathes of this size. The 1000W brushless spindle drive motor provides tremendous low-end torque and continuously variable speed from 100-2000 RPM in both directions. It features our new control panel, which allows you to stop and then restart the lathe at a pre-selected speed.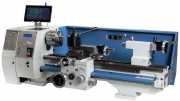 The 7550 HiTorque 8.5x20 Deluxe Bench Lathe has all the features of the 7500 bench lathe, plus it includes a DRO tablet that displays position of the carriage and cross slide; digital readouts on the compound rest and tailstock; an AXA quick change tool post set with five tool holders; anodized aluminum hand wheels, knobs, and levers with black anodizing in the hand wheels; and a full-length heavy-duty splash guard. In addition, the compound rest is modified to better accommodate a quick change tool post.

Our 5550 HiTorque Deluxe Bench Mill with Long Table has all of the features of the 5500, but it has a significantly larger table (27.5" x 6.25"). In addition, it comes with a factory-installed 3-axis digital readout (DRO) with Bluetooth and 7" tablet display, an electrically interlocked spindle lock for easy and safe tool changes, and machined aluminum handwheels.
The 6700 HiTorque Large Bench Mill is our largest mill -- a significant step up in size, rigidity, and power compared to a mini mill, or even our bench mill. This benchtop mill provides an even larger table (29.1" x 7.1"), more travel, and more horsepower (1000W). A simple belt change switches between low range and high range, giving you continuously variable spindle speeds from 80-5000 rpm.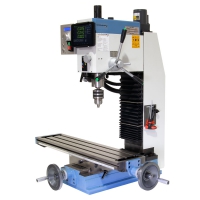 The 6750 HiTorque Deluxe Large Bench Mill is our top-of-the-line mill for home machinists. It has all the features of the 6700 HiTorque Large Bench Mill -- large 29.1"x7.1" table, powerful 1000W DC brushless spindle motor, and tapping mode, to name a few -- plus these deluxe features:
3-axis DRO with Bluetooth and 7" tablet display
Power head lift system
Electrically interlocked spindle lock
Machines Currently Not in Stock
The machine you're looking for isn't shown above? Here is a list of the machines that we don't have in stock at the moment, along with their expected in-stock dates:
4700 HiTorque Micro Mill, November 15
4190 HiTorque Deluxe Mini Mill, December 15
6500 HiTorque Bench Mill (replacement for 5500), November 15