Thin Parallels, 3" Long, 10 Pairs, Ultra-Precision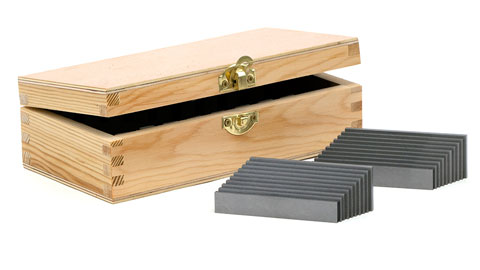 Set of ten pairs of thin parallels in a fitted case
Parallels are 1/8" thick and 3" long
Heights are 1/2", 9/16", 5/8", 11/16", 3/4", 13/16", 7/8", 15/16", 1", 1-1/16"
Made of A2 tool steel hardened to 57 to 59 Rc
Parallel within ±0.0001" on the top and bottom. The pairs are matched in height within ±0.0001"
These 3" long thin parallels are great for the small vises used on the mini mill.
These thin parallels were made in the USA by the Arthur R. Warner Co. exclusively for LittleMachineShop.com.
This set of 1/8" thin parallels contains 10 pairs of parallels that step in 1/16" increments. This gives you more sizes you can use in our small vises.
These parallels do not have holes in them.
The Arthur R. Warner Co. is a family-owned American manufacturer of high speed steel products with specialization in cutting, shaping, pre-grinding, heat treating, and finish grinding of premium grades of flat high speed steel (and tool steel). Their quality is excellent and LittleMachineShop.com is proud to carry their products.
Compatibility
This product works with these LittleMachineShop.com products:
This product works with the following mills. (If your machine is not on this list, we cannot verify compatibility.)
Proxxon FF 230 Micro Mill
Sherline 5000 Mill
Sherline 5800 Mill
Sherline 2000 Mill
Sherline 5400 Mill
Taig 2018 Micro Mill
Taig 5019 Micro Mill
Taig 2019 Micro Mill
Prazi BF400 Mill
Prazi BF450 Mill
Clarke CMD10 Metalworker Micro Mill
Harbor Freight 47158 Central Machinery Micro Mill
SIEG X1 Micro Mill
SIEG SX1 Micro Mill
LittleMachineShop.com 4660 HiTorque Micro Mill
LittleMachineShop.com 4700 HiTorque Micro Mill
SIEG SX1P Micro Mill
Grizzly G0758 Mill/Drill
Bolton XJ-9510 Mill/Drill
Clarke CMD300 Milling Drilling Machine
Grizzly G8689 Mini Milling Machine
Hare & Forbes HM-10 Mill/Drill
Princess Auto 8507667 Powerfist Mini Mill
SIEG X2-MT3 Mini Mill
Micro-Mark 82573 MicroLux Milling Machine
BusyBee CX605 Craftex Mini Mill
Cummins (Tools Now) 7877 Mini Mill
Eastwood 32498 Mini Mill
Harbor Freight 44991 Central Machinery Mill/Drill
Homier 03947 Speedway Mini Mill
Northern Tool 49657 KLUTCH Mini Mill
Penn Tool Co XJ-9510-1 Precise Mini Mill
SIEG X2-R8 Mini Mill
Travers Tools OT2213 OTMT Mini Mill
SIEG X2P Mini Mill
LittleMachineShop.com 4962 SIEG Mini Mill
SIEG X2D Mini Mill
SIEG X2L Mini Mill
WEN 33013 WEN Mini Mill
SIEG X2LF Mini Mill
BusyBee CX612 Craftex Mini Mill
SIEG SX2 Mini Mill
Micro-Mark 84630 MicroLux Mini Mill
LittleMachineShop.com 3900 HiTorque Mini Mill
SIEG SX2L Mini Mill
LittleMachineShop.com 3990 HiTorque Mini Mill
LittleMachineShop.com 3960 HiTorque Mini Mill
LittleMachineShop.com 4190 HiTorque Mini Mill
LittleMachineShop.com 6450 HiTorque Mini Mill
SIEG SX2LF Mini Mill
Grizzly G0781 Mill/Drill