Edge and Center Finder, 10 mm Shank Laser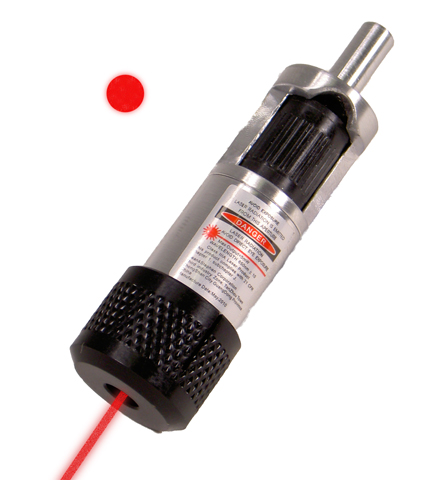 10 mm shank fits collets and end mill holders
3.375" overall length
Uses common SR44 batteries (included)
Accuracy to 0.001"
Includes polarizing attachment to adjust dot size
The Laser Center/Edge Finder™ is a new tool for your mill that saves setup time. It eliminates the frustrations and doubts of using the century-old indirect method with a conventional edge finder or wiggler.
The Laser Center/Edge Finder projects a fine laser beam that directly indicates the edge of the workpiece. Move the beam to the edge of the work and set your dial to zero. It is that easy. No more calculating half the diameter of the edge finder.
You can also use the Laser Center/Edge Finder to locate scribed or center-punched locations. Simply move the laser beam to the location on the workpiece and the spindle is aligned.
The Laser Center/Edge Finder is easy to align so you can be sure it is always accurate.
The batteries last for over 3 hours of continuous operation. That's 6 months to a year of normal use.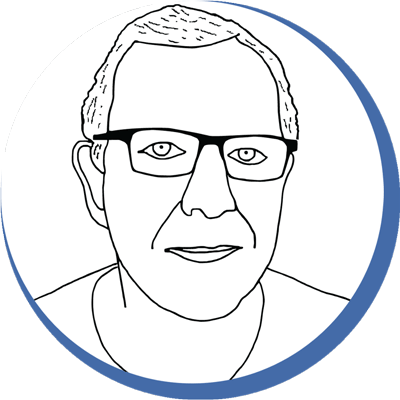 Chris' Tips
The Laser Center/Edge Finder™ not as accurate as a mechanical edge finder. But it is a whole lot more convenient to use. So don't think of it as a replacement, but as an additional tool for those times where 1/2 thou accuracy is not required. The laser edge finder will get you within about 0.002" And in some applications, like finding the intersection of scribed lines, I can't think of many tools that are more accurate.New! Improved! In mid-2007, the Laser Center/Edge Finder was redesigned in some significant ways:

It now has a more powerful laser module. In addition, the Laser Center/Edge Finder now includes a polarizing attachment, which used to be sold separately. With this combination, it is usable from 1" to 12" from the work surface. Rotate the polarizing attachment to adjust the dot size to as fine a dot as you like.

How fine a dot can you make? As fine as frog's hair (so fine you can't see it). To obtain the smallest dot size for your most precision work, try coating the material with Blue Dykem. This coating will absorb a bit of the laser dot making it appear smaller.

Don't order a laser edge and center finder if you live in Finland. We cannot ship laser devices to Finland.

Tip: If you need batteries for one of our Laser Edge and Center Finders, don't waste money on silver oxide batteries. Testing has shown that they work just as long on alkaline batteries.Besides our uses for finding edges, finding centers, and aligning things, these Laser Center/Edge Finder are used for a variety of industrial uses. A Laser Center/Edge Finder is shipped with each Flow International waterjet cutting machine. They are used by Boeing to assemble wings for 737 jetliners. They are used to test the main engine exhaust on the Space Shuttle. And the GM Crash Div uses them to set up crash tests. These are examples of the over 500 commercial and industrial customers that have purchased Laser Center/Edge Finders.
Compatibility
This product works with these LittleMachineShop.com products:
This product works with the following mills. (If your machine is not on this list, we cannot verify compatibility.)
Clarke CMD10 Metalworker Micro Mill
Harbor Freight 47158 Central Machinery Micro Mill
SIEG X1 Micro Mill
SIEG SX1 Micro Mill
LittleMachineShop.com 4660 HiTorque Micro Mill
LittleMachineShop.com 4700 HiTorque Micro Mill
SIEG SX1P Micro Mill
Grizzly G0758 Mill/Drill
Bolton XJ-9510 Mill/Drill
Clarke CMD300 Milling Drilling Machine
Grizzly G8689 Mini Milling Machine
Hare & Forbes HM-10 Mill/Drill
Princess Auto 8507667 Powerfist Mini Mill
SIEG X2-MT3 Mini Mill
Micro-Mark 82573 MicroLux Milling Machine
BusyBee CX605 Craftex Mini Mill
Cummins (Tools Now) 7877 Mini Mill
Eastwood 32498 Mini Mill
Harbor Freight 44991 Central Machinery Mill/Drill
Homier 03947 Speedway Mini Mill
Northern Tool 49657 KLUTCH Mini Mill
Penn Tool Co XJ-9510-1 Precise Mini Mill
SIEG X2-R8 Mini Mill
Travers Tools OT2213 OTMT Mini Mill
SIEG X2P Mini Mill
LittleMachineShop.com 4962 SIEG Mini Mill
SIEG X2D Mini Mill
SIEG X2L Mini Mill
WEN 33013 WEN Mini Mill
SIEG X2LF Mini Mill
BusyBee CX612 Craftex Mini Mill
SIEG SX2 Mini Mill
Micro-Mark 84630 MicroLux Mini Mill
LittleMachineShop.com 3900 HiTorque Mini Mill
SIEG SX2L Mini Mill
LittleMachineShop.com 4190 HiTorque Mini Mill
LittleMachineShop.com 3990 HiTorque Mini Mill
LittleMachineShop.com 3960 HiTorque Mini Mill
LittleMachineShop.com 6450 HiTorque Mini Mill
SIEG SX2LF Mini Mill
Grizzly G0781 Mill/Drill
SIEG X2.7 Bench Mill
SIEG X2.7L Bench Mill
WEN 33075 WEN Bench Mill
LittleMachineShop.com 5500 HiTorque Bench Mill
LittleMachineShop.com 6500 HiTorque Bench Mill
SIEG SX2.7 Bench Mill
LittleMachineShop.com 5550 HiTorque Bench Mill
LittleMachineShop.com 6550 HiTorque Bench Mill
SIEG SX2.7L Bench Mill
BusyBee CX705 Craftex Lathe Mill Combo
Grizzly G0516 Lathe Mill Combo
SIEG M6 Multi-purpose Machine