Power Feed Kit, SX4 2954
(Discontinued)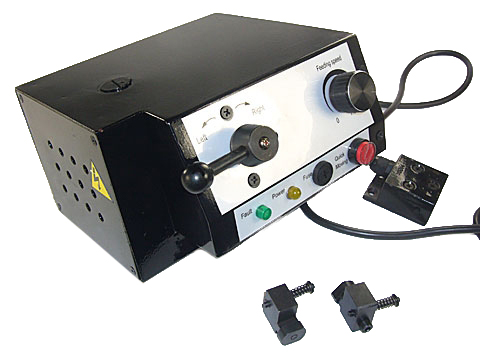 Power table feed for the SIEG SX4 mill
Variable speed: 0 to 20 inches per minute
Includes adjustable limit switches
Fast traverse for high speed table motion
Part Number: 2954
(Discontinued)
Weight: 16.0 lb
Price: $399.95


This power feed mounts on the left end of the mill's table and drives the X-axis feed screw.
The kit takes about 30 minutes to install. It is a bolt-on accessory for the SX4 and requires no modifications to the machine.
The SIEG SX4 Bench Mill is sold by Grizzly as their G0720R Milling Machine.
Compatibility
This product works with the following mills. (If your machine is not on this list, we cannot verify compatibility.)
Grizzly G0463 Mill/Drill
Harbor Freight 93885 Central Machinery Mill/Drill
SIEG X3 Small Mill
Woodstock International M1110 Shop Fox Small Mill
BusyBee CX611 Craftex Small Mill
Grizzly G0619 Mill/Drill
SIEG SX3 Small Mill
Travers Tools OT2225SX3 OTMT Small Mill