Lathe Chuck, 4-Jaw 3", Self-Centering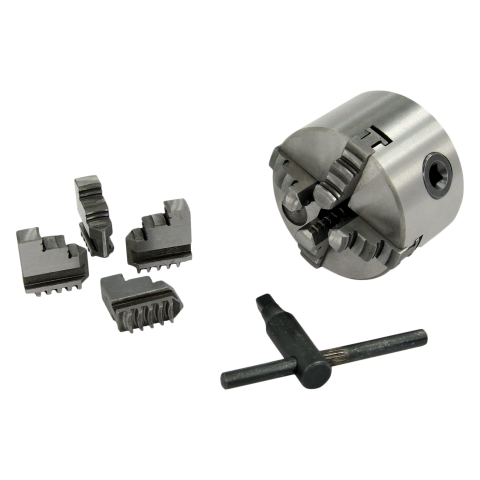 4-jaw self-centering lathe chuck
3" (80 mm) diameter
Includes chuck key, inside and outside jaws
Plain back mounting
High grade tool steel
3 inch, 4-Jaw self-centering lathe chuck for square or octagonal work.
The through bore of this chuck is 16 mm (0.63").
The chuck can hold work up to 63 mm (2.48") in diameter.
The radial runout of a test bar held in this chuck, when the chuck is mounted true, is 0.003" maximum.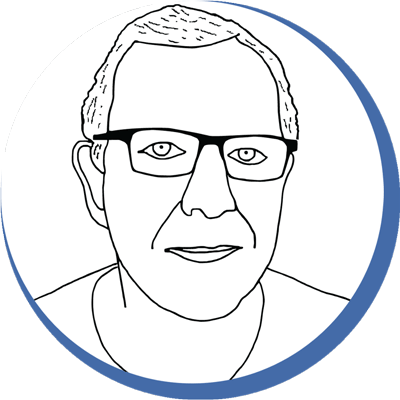 Chris' Tips
This is a fairly specialized chuck for turning square or octagonal stock.

A 4-jaw independent chuck is a lot more commonly used.

Here is a chart that provides lathe chuck capacities and mounting dimensions.Don't forget to get a set of studs and nuts to mount this.
Specifications

| | |
| --- | --- |
| Rated Capacity, Inside Jaws | 0.08" - 0.87" (2.0 mm - 22.0 mm) |
| Rated Capacity, Jamming Range | 0.98" - 2.76" (25.0 mm - 70.0 mm) |
| Rated Capacity, Outside Jaws | 0.87" - 2.48" (22.0 mm - 63.0 mm) |
| Runout (Max) | ≤ 0.0028" (0.071 mm) |
| Diameter, Overall | 3.15" (80.0 mm) |
| Registration Recess Diameter | 2.17" (55.0 mm) |
| Registration Recess Depth | 0.14" (3.5 mm) |
| Bolt Circle Diameter | 2.60" (66.0 mm) |
| Center Hole Diameter | 0.63" (16.0 mm) |
| Height | 1.97" (50.0 mm) |
| Jaw Height Above Face | 0.63" (16.0 mm) |
| Height with Jaws | 2.60" (66.0 mm) |
| Number and Size of Bolts | 3 M6 |
| Chuck Key | 0.31" (8.0 mm) |
| Max RPM | 4000 RPM |
| Chuck Designation | K12-80 |
Compatibility
This product works with lathes with a 80 mm flange chuck mount including:
Grizzly M1015 Shop Fox 6x10 Micro Lathe
Micro-Mark 85181 MicroLux 6x10 Micro Lathe
SIEG C1 6x10 Micro Lathe
Woodstock International M1015 Shop Fox 6x10 Micro Lathe
Enco 110-0803 Enco 7x10 Mini Lathe
Harbor Freight 93212 Central Machinery 7x10 Mini Lathe
Harbor Freight 33684 Central Machinery 7x10 Mini Lathe
MSC 0192857 Enco 7x10 Mini Lathe
Bolton CQ9318 7x12 Mini Lathe
Busy Bee Tools CX704 Craftex 7x12 Mini Lathe
Cummins (Tools Now) 5278 7x12 Mini Lathe
Eastwood 32497 7x12 Mini Lathe
Grizzly G8688 7x12 Mini Metal Lathe
Harbor Freight 93799 Central Machinery 7x12 Mini Lathe
Homier 03911 Speedway 7x12 Mini Bench Metal Lathe
LittleMachineShop.com 1014 LittleMachineShop.com 7x14 Mini Lathe
LittleMachineShop.com 1012 LittleMachineShop.com 7x12 Mini Lathe
Princess Auto 8507659 Powerfist 7x12 Mini Lathe
SIEG C2 7x12 Mini Lathe
Tormach 30689 7x12 Duality Lathe
Travers Tools OT222300 OTMT 7x12 Mini Lathe
Warco 3004 7x12 Mini Lathe (Metric)
Warco 3005 7x12 Mini Lathe (Imperial)
WEN 3455 WEN 7x12 Mini Lathe
Micro-Mark 82500 MicroLux 7x12 Mini Lathe
LittleMachineShop.com 4100 HiTorque 7x12 Mini Lathe
LittleMachineShop.com 4200 HiTorque 7x12 Deluxe Mini Lathe
SIEG SC2 7x12 Mini Lathe
Micro-Mark 82710 MicroLux 7x14 Mini Lathe
LittleMachineShop.com 4959 SIEG 7x14 Mini Lathe
SIEG C3 7x14 Mini Lathe
Warco 4820-350 7x14 Mini Lathe (Metric)
Warco 4800-350 7x14 Mini Lathe (Imperial)
Grizzly G0765 7x14 Mini Lathe
Micro-Mark 84631 MicroLux 7x16 Mini Lathe