Transmission Gear Kit, R8 Mini Mill, Metal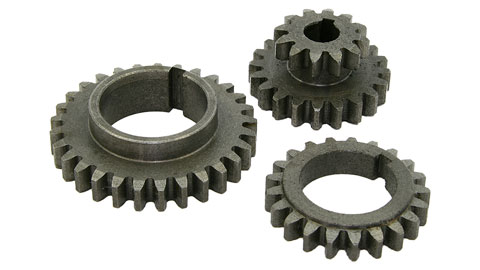 Replaces both plastic transmission gears with metal
Fits R8 mini mills
Includes 2-Speed Intermediate Shaft Gear
Includes R8 Spindle No. 1 Gear
Includes R8 Spindle No. 2 Gear
Part Number: 3449
Weight: 1.00 lb
Price: $69.95

This product is currently backordered.
Estimated availability:
31-Jan-2022
What is "estimated availability"?
Click this button if you want to receive an email notification when this product becomes available.

Once this steel gear kit is installed on your mini mill, you will no longer have to worry about breaking the hard-to-replace gears inside the headstock.
On the mini mill, the easy-to-replace intermediate gear on top of the headstock is still plastic. This helps to ensure that you don't break expensive and hard to replace parts.
This product contains the following items:

| | Description | Qty |
| --- | --- | --- |
| | Gear, 2-Speed Intermediate Shaft, Metal, P/N 3451 | 1 |
| | Gear, R8 Spindle No. 1, Mini Mill, Metal, P/N 3457 | 1 |
| | Gear, R8 Spindle No. 2, Mini Mill, Metal, P/N 3456 | 1 |
Compatibility
This product works with mills with a R8 spindle taper including:
BusyBee CX605 Craftex Mini Mill
Cummins (Tools Now) 7877 Mini Mill
Eastwood 32498 Mini Mill
Harbor Freight 44991 Central Machinery Mill/Drill
Homier 03947 Speedway Mini Mill
Northern Tool 49657 KLUTCH Mini Mill
Penn Tool Co XJ-9510-1 Precise Mini Mill
SIEG X2-R8 Mini Mill
Travers Tools OT2213 OTMT Mini Mill
SIEG X2P Mini Mill
LittleMachineShop.com 4962 SIEG Mini Mill
SIEG X2D Mini Mill
SIEG X2L Mini Mill
WEN 33013 WEN Mini Mill
SIEG X2LF Mini Mill
BusyBee CX612 Craftex Mini Mill
SIEG SX2 Mini Mill
Micro-Mark 84630 MicroLux Mini Mill
LittleMachineShop.com 3900 HiTorque Mini Mill
SIEG SX2L Mini Mill
LittleMachineShop.com 3960 HiTorque Mini Mill
LittleMachineShop.com 3990 HiTorque Mini Mill
LittleMachineShop.com 4190 HiTorque Mini Mill
SIEG SX2LF Mini Mill