Quick Change Tool Post Set, BXA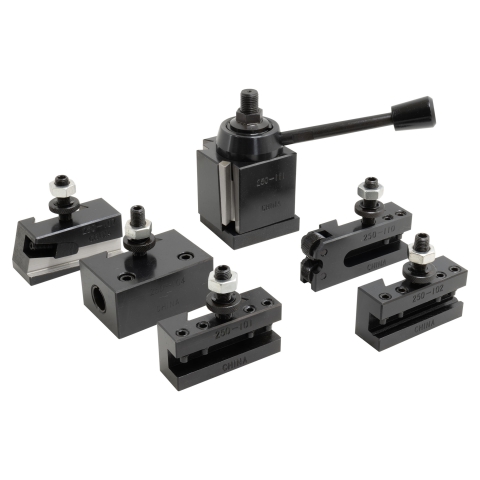 Quick change tool post set for lathes with 10-15" swing
BXA, or series 200 size
Tool holders interchange with Aloris, Dorian, and Phase II
All steel construction
Includes five tool holders
BXA, or series 200, wedge type quick change tool post set.
This quick change tool post set is designed for lathes with up to 10-15" swing.
All working parts are hardened and ground. It is completely sealed for maintenance-free operation.
The tool holders interchange with Aloris, Dorian, and Phase II.
This set includes the tool post and the following tool holders:
No. 1 - Turning & Facing,
No. 2 - Boring, Turning & Facing,
No. 4 - Heavy Duty Boring,
No. 7 - Universal Parting Blade,
No.10 - Knurling, Facing & Turning.
This set also includes a piece of steel from which you can make a T-slot nut to fit your lathe.
The BXA turning tool holders hold tools up to 5/8".
The cut-off tool holds 11/16" blades.
This item ships directly from our supplier in California to you. It might be a day or two longer before it ships, and you will receive it in a separate package from other items on your order. You might receive this item a few days before or a few days after you receive items shipped from our warehouse.