Setup Blocks, Eight Block Set, iGaging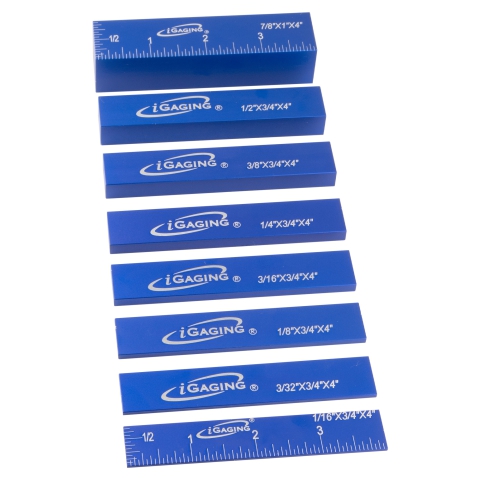 8 piece setup blocks
Block size: 4" long x 3/4" wide
Solid aluminum with blue anodized finish
Block thickness accuracy: 0.001"/0.025 mm
Easy-to-read laser etched labels on each block, fitted case included
Set of eight setup blocks from iGaging make setting heights and depths quick and accurate. Use to set blade heights, drill press stop depths, router bit heights, fence distances, and more.
The easy to read numerals, white on anodized blue, help with quick identification. Use blocks individually or in combinations to achieve different measurements.
Blocks are machined to a thickness accuracy of 0.001"/0.025 mm and each block is 4" long and 0.75" wide.
Thicknesses in this set are: 1/16", 3/32", 1/8", 3/16", 1/4", 3/8", 1/2", 7/8".
Specifications

| | |
| --- | --- |
| Number of Blocks in Set | 8 |
| Block Length | 4" (102 mm) |
| Blocks Width | 0.75" (19.0 mm) |
| Accuracy | 0.0010" (0.025 mm) |