Hex Wrench Set, T-Handle Ball End, Inch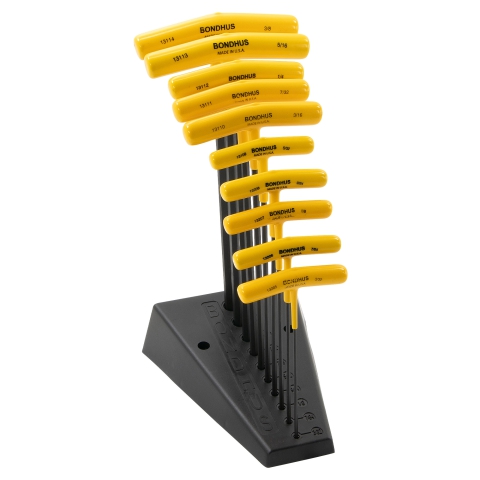 Cushion grip T-handle
3/32", 7/64", 1/8", 9/64", 5/32", 3/16", 7/32", 1/4", 5/16", and 3/8"
Sizes 5/32" and up have ball end
Includes stand
Ball end tips work at up to 25 degree angle
Ball end T-handles feature welded steel handles with cushion grips sized for maximum torque while protecting the ballpoint tip and screw from rounding or stripping. The cushion grip handle is ergonomically shaped eliminating pressure points. The heavy duty handle generates flywheel effect for fast insertion and extraction of screws. Comes with a molded stand that mounts on the wall or work bench. Only available from Bondhus, Protanium® steel means these are the strongest tools available.
Tools are Made in the USA with Bondhus proprietary Protanium steel and are up to 20% stronger than competitive tools.
ProGuard Finish is 5 times more effective than the next leading brand in preventing rust, protecting your investment over time.