Band Saw, Bench Top CLOSEOUT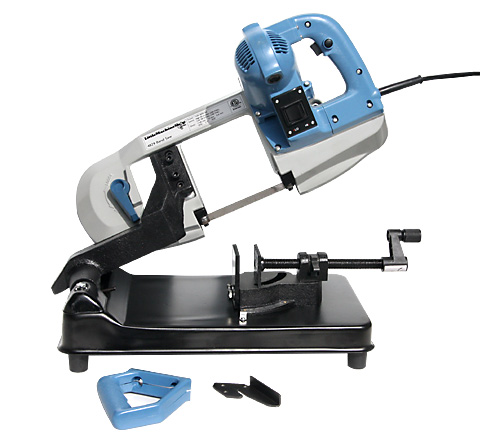 Uses widely available 44-7/8" blades
Two blade speeds
3" (80 mm) x 4" (100 mm) capacity
Comes with a 14 TPI bi-metal blade
Includes stand with quick-adjusting cast iron vise
*NOTE* After much consideration we've decided to discontinue this item once our stock is depleted.
They're a good saw for the money, but we just don't feel they're quite up to the standard of quality our customers expect from a Littlemachineshop.com branded machine. The blade has a bit too much flex for a truly straight cut, but work great for rough cuts of bar stock or similar. Small form factor makes changing blades and other repairs, adjustments, etc. a bit tough. We've used one in the shop for years, but honestly just for quick rough cuts and do most precision work on mill/lathe later.
**********************
This small bench top band saw is perfect for the small shop. It's got the capacity of larger floor-standing saws but takes a fraction of the space. Cast iron vise swivels for angle cuts. The two-speed motor makes it great for ferrous (read: steel) and non-ferrous (read: aluminum) metals.
It's quieter and more accurate than chop saws. It takes less than 5 minutes to remove the saw from the base and configure it for portable use. The double-chain drive makes this tabletop band saw more rugged than others and the dual ball-bearing blade guides increases accuracy and improves blade life.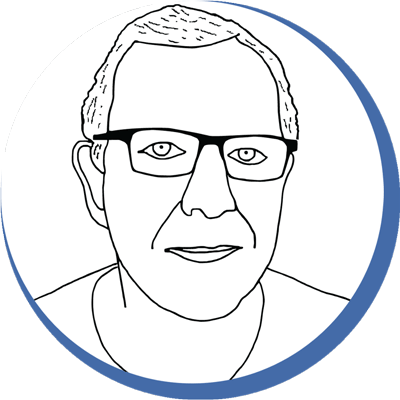 Chris' Tips
Our bench-top band saw has two speeds. Use low speed for steel and other harder materials. Use high speed for aluminum and other non-ferrous metals. High speed works well for wood and plastic, too.I found a great rule of thumb in Cutting Tool Engineering for selecting the correct band saw blade. It's the rule of 3, 6, 12, 24. You want at least three teeth on the work all the time, you don't want more than 24 teeth on the work at any one time, and what you would like is between 6 and 12 teeth on the work all the time.
Specifications

| | |
| --- | --- |
| Low Cutting Speed | 105 FPM (58 m/Min) |
| High Cutting Speed | 280 FPM (85 m/Min) |
| Blade Size | 44.88" x 0.5" x 0.02" (1140 mm x 13 mm x 0.6 mm) |
| Round Tube Capacity | 3" (80 mm) |
| Round Bar Capacity | 4" (100 mm) |
| Rectangle Capacity | 3" x 4" (80 mm x 100 mm) |
| Cutting Angle | 0 to 45 Degrees |
| Power Requirements | 120 V 60 Hz 8 Amps |
| Shipping Weight | 39 lbs (18 kg) |
| Base Dimensions (W x D) | 18.5" x 10.6" (470 mm x 270 mm) |
| Overall Dimensions (W x D x H) | 22.8" x 11.6" x 25.2" (580 mm x 295 mm x 640 mm) |
Compatibility
This product works with these LittleMachineShop.com products: