Machining for Hobbyists: Getting Started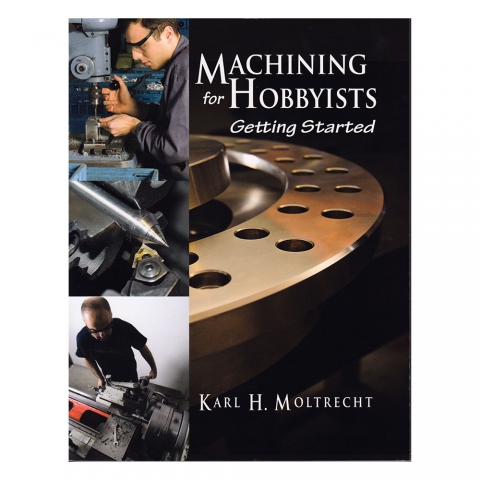 Machining for Hobbyists: Getting Started
By Karl H. Moltrecht
222 pages, softcover
ISBN 978-0-8311-3510-2
Copyright 2015
Machining for Hobbyists is for the do-it-yourselfer or hobbyist who wants to learn the basics of machining and how to set up a small home workshop. It provides a user-friendly explanation of the essential tools, materials, and techniques that hobbyists need for a variety of metalworking projects. Tips from the pros writing for Home Shop Machinist magazine are included, as well as a foreword by the magazine's editor.
Through easy-to-follow explanations, as well as detailed illustrations and color photography, Machining for Hobbyists:
* Guides hobbyists in selecting the proper tools for working with metal, including tips for buying and using bench-top lathes, mills and drill presses. The book also covers the various cutting components used on these tools.
* Provides suggestions for shop layout, including space requirements, lighting, ventilation, and safety.
* Guides the reader through the use of specialty tools used for measuring and handling small metal parts.
List of Tables
Foreword
Introduction
Chapter 1: Machine Shop Overview Machine Tools; Planning the Home Workshop; Shop Safety
Chapter 2: Measuring Tools The Steel Rule; Telescoping Gage and Small-Hole Gages; Calipers; The Square and the Bevel Protractor; Vernier Measuring Instruments; Micrometer Measuring Instruments; Dial Test Indicators; Precision Gage Blocks; Surface Gages; Parallels; The Basic Nomenclature of Measurement; Tip from a Pro: Using a Micrometer
Chapter 3: Machine Shop Tools and Materials Scribers; Punches; Files; Bench Vises; Saws; Bench-Top Grinders; Machine Shop Materials; Tip from a Pro: Basic Layout Skills; Tip from a Pro: Using a Bench Grinder
Chapter 4: Drill Presses Drill Press Basics; Twist Drills; Twist Drill Geometry; Drilling Speeds; Operating a Drill Press; Reamers; Counterbores, Countersinks, and Spotfacers; Taps; Tip from a Pro: Common Problems with Drilled Holes
Chapter 5: Introduction to Lathes Principal Parts; Cutting Tools; Cutting Speeds; Selecting the Cutting Conditions; Calculating the Cutting Speed
Chapter 6: Working on a Lathe Turning Between Lathe Centers; Working with Chucks; Turning; Other Lathe Functions; Cutting Threads; Tip from a Pro: Turning Between Centers
Chapter 7: Milling Machines Principal Parts; Cutting Speeds for Milling; Calculating the Cutting Speed; Milling Machine Operations; Tip from a Pro: The Rotary Table
Glossary
Index