Spindle Lock & Quill Stop, G0704 Mill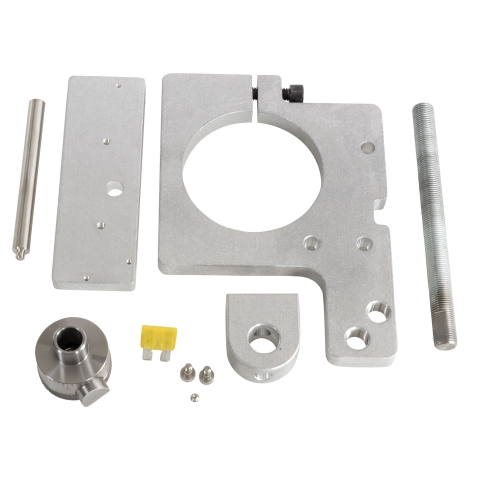 Spindle lock and quill stock makes tool changes easier, faster, and more convenient
Provides a quick and accurate way to set the quill depth of cut
Made in precision machining centers in the U.S.A.
Fits Grizzly G0704 mills
The spindle lock provides a fixed position of the G0704 (Weiss BF20) mill spindle and frees both hands for changing tools.
Fits Grizzly G0704 mills with very little modification required (drill & tap 2, 1/4-20 holes in the side of the machine head).
The Spindle Lock and Quill Stop provides a quick and accurate way to set the quill depth of cut on the Grizzly G0704 mill.
The unit is easy to use. For the Quill Stop, simply press the button and the nut disengages from the thread. Slide to desired position and release the button to engage the threads. Turning the nut then allows for precision micro-adjustments of depth of cut.
And for the Spindle Lock, Insert the spindle lock pin through the tapered hole in the Spindle Lock block, rotate the spindle by hand until the pin finds the hole in the spindle.
| | |
| --- | --- |
| | Front view of assembly. |
| | Side view of assembly. |
| | Installed on the mill. |
Compatibility
This product works with the following mills. (If your machine is not on this list, we cannot verify compatibility.)
Grizzly G0704 Mill/Drill With Stand