Chip Tray, HiTorque Bench Mill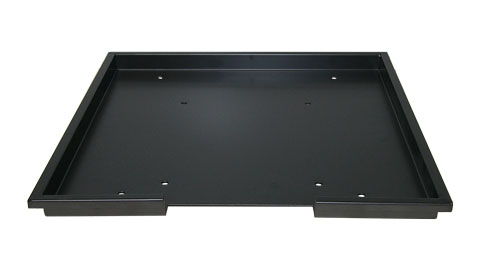 Metal chip tray, black
20.78" x 23.94" x 1.38" (527 mm x 608 mm x 35 mm)
Fits HiTorque and SIEG SX2.7 benchi mills
Holes align for securing compatible bench mill
Available in tray only or on a stand
Chip tray for HiTorque and SIEG SX2.7 bench mills. Dimensions are 20.78" x 23.94" x 1.38" (527 mm x 608 mm x 35 mm). Pre-drilled holes in tray are sized for securing a compatible mill. This chip tray is robust enough to provide years of service either on a bench or on the cabinet stand.
Tray sold individually for bench mounting or on a stand cabinet. For full cabinet with tray, see product #5634.
See the Compatibility tab for machines that work with this product.
Compatibility
This product works with the following mills. (If your machine is not on this list, we cannot verify compatibility.)
SIEG X2.7 Bench Mill
SIEG X2.7L Bench Mill
WEN 33075 WEN Bench Mill
LittleMachineShop.com 5500 HiTorque Bench Mill
LittleMachineShop.com 6500 HiTorque Bench Mill
SIEG SX2.7 Bench Mill
LittleMachineShop.com 5550 HiTorque Bench Mill
LittleMachineShop.com 6550 HiTorque Bench Mill
SIEG SX2.7L Bench Mill