Tramming Set, Mini Mill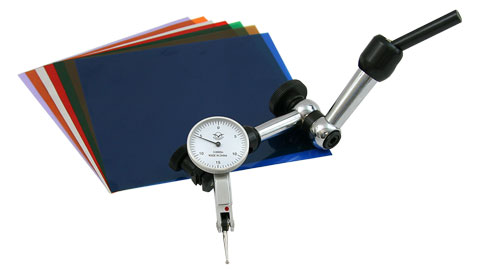 Everything you need to tram a mini mill
Dial test indicator
Universal arm locks with one knob
Shim assortment
This package includes everything you need to tram your mini mill and square your vise.
Mount the indicator on the universal arm, put the shank of the universal arm in a drill chuck, and check the four corners of your mill table.
Adjust the tram by shimming under the base of the column.
Kit includes LittleMachineShop.com #4304 Shim Stock Assortment, #1249 Dial Test Indicator, and #4653 6" Universal Indicator Arm.
Shim Stock Assortment includes seven sheets of 5"x5" polyester shim stock.
Color coded shim stock sheets are made from a high quality plastic material. Easy to cut and resists oil. Non-magnetic and non-conductive to electricity. Corrosion resistant.
Here are the colors and thicknesses of the items.
- Shim Stock, 0.0005" Silver (mirror like coating)
- Shim Stock, 0.001" Amber
- Shim Stock, 0.0015" Purple
- Shim Stock, 0.002" Red
- Shim Stock, 0.003" Green
- Shim Stock, 0.004" Tan
- Shim Stock, 0.005" Blue
Test dial indicator has 0.0005" graduations, a range of 0-0.030" in either direction, and reading 0-15-0. It includes 5/32" and 3/8" diameter posts, dovetails on the back and end, and a 0.080" diameter point. It comes in a fitted case.
6" universal arm for holding test indicators. Arm is constructed of steel and has a central locking mechanism and fine adjustment knob.
The 3/8" indicator stem hole and dovetail grooves holds most dial indicators and test indicators.
The arm has a 8 mm (0.315") x 40 mm (1.57") unthreaded stem for placing the arm in collets.