Tap Guide, Reversible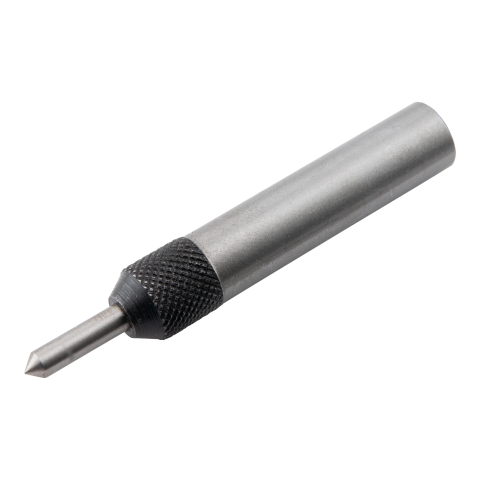 Reversible tap guide
Spring loaded
3/16" diameter pin
1/2" knurled shank
Adjustable spring
This tap guide helps you start threaded holes straight.
The reversible point is spring loaded to maintain pressure on the tap. One end of the point has a center hole for small taps, while the other end is pointed for larger taps. Tension spring is adjustable. Tap has a 3/16" diameter hardened tension pin.
The 0.50" diameter hardened shank is knurled for easy handling.
Remove the setscrew in the back end to with a 3/16" Allen wrench to reverse the point. (Be careful, the spring is strong and the set screw will pop out and disappear in your shop if you are not careful!)
Specifications

| | |
| --- | --- |
| Length | 3.3" (83 mm) |
| Diameter | 0.5" (13 mm) |
| Tip Extension | 0.8" (19 mm) |
| Tip Diameter | 0.2" (5 mm) |
| Knurled Section Length | 0.5" (13 mm) |
| | |
| --- | --- |
| | Reverse view |
| | Adjustment screw |
| | Exploded view |
| | 2MT Bore |
| | Center hole tip |