Live Center, 1MT Heavy Duty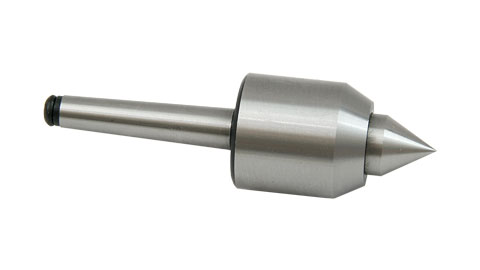 Point is a 60º included angle
Standard 1 Morse taper
1.39" diameter body
Works with lathes with a 1 Morse taper tailstock taper
Live Center, 1 Morse taper shank.
This center is made from hardened steel and ground for accuracy. It has precision high quality bearings. The point is a 60º included angle.
The maximum diameter of the point is 0.71". The OD of the body is 1.39". The distance from the tip to the front of the body is 0.71".
The rated radial load is 66 lbs. The maximum speed is 4000 RPM. The runout is 0.0003".
Compatibility
This product works with lathes with a 1 Morse taper tailstock taper including:
Prazi MD200 4x8 Lathe
Proxxon PD 230/E 4.4x9 Lathe
Grizzly M1015 Shop Fox 6x10 Micro Lathe
Micro-Mark 85181 MicroLux 6x10 Micro Lathe
SIEG C1 6x10 Micro Lathe
Woodstock International M1015 Shop Fox 6x10 Micro Lathe
Emco Compact 5 5x14 Lathe
Prazi SD300 5x12 Lathe
Craftsman & Atlas 612 6x18 Lathe