Coaxial Centering Indicator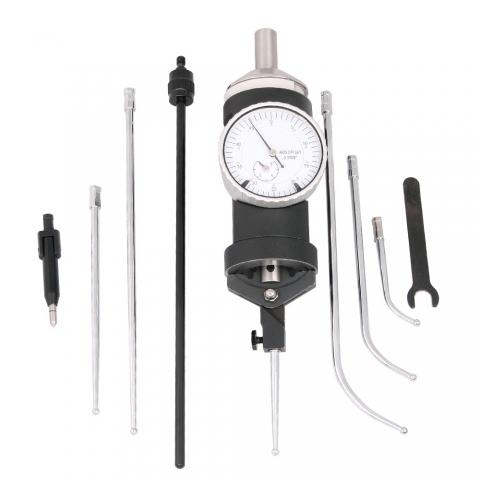 Use this indicator to quickly center work pieces or fixtures on your mill
This coaxial centering indicator remains stationary while the spindle rotates
Can be used to center internal and external diameters
The locating accuracy is 0.0005" of center
Furnished in a fitted case
Use this indicator to quickly center work pieces or fixtures on your mill.
The measuring range is 0.25". The shank is 0.375" diameter and 0.75" long. The indicator is 5.5" long from the top of the shank to the bottom of the tip holder (the black part).
Can measure internal diameters from 0.12" to 4.25" and external diameters from zero to 4.25".
This set includes: Indicator body, restraining rod (prevents rotation), spring-loaded center point feeler, three straight feelers (for IDs), three curved feelers (for ODs).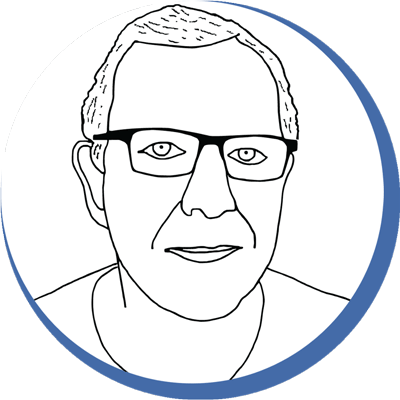 Chris' Tips
Here is a video that shows how easy it is to use a coaxial indicator.
| | |
| --- | --- |
| | Dial Detail |
Compatibility
This product works with the following mills. (If your machine is not on this list, we cannot verify compatibility.)
Bolton XJ-9510 Mill/Drill
Clarke CMD300 Milling Drilling Machine
Grizzly G8689 Mini Milling Machine
Hare & Forbes HM-10 Mill/Drill
Princess Auto 8507667 Powerfist Mini Mill
SIEG X2-MT3 Mini Mill
Micro-Mark 82573 MicroLux Milling Machine
BusyBee CX605 Craftex Mini Mill
Cummins (Tools Now) 7877 Mini Mill
Eastwood 32498 Mini Mill
Harbor Freight 44991 Central Machinery Mill/Drill
Homier 03947 Speedway Mini Mill
Northern Tool 49657 KLUTCH Mini Mill
Penn Tool Co XJ-9510-1 Precise Mini Mill
SIEG X2-R8 Mini Mill
Travers Tools OT2213 OTMT Mini Mill
SIEG X2P Mini Mill
LittleMachineShop.com 4962 SIEG Mini Mill
SIEG X2D Mini Mill
SIEG X2L Mini Mill
WEN 33013 WEN Mini Mill
SIEG X2LF Mini Mill
BusyBee CX612 Craftex Mini Mill
SIEG SX2 Mini Mill
Micro-Mark 84630 MicroLux Mini Mill
LittleMachineShop.com 3900 HiTorque Mini Mill
SIEG SX2L Mini Mill
LittleMachineShop.com 3960 HiTorque Mini Mill
LittleMachineShop.com 3990 HiTorque Mini Mill
LittleMachineShop.com 4190 HiTorque Mini Mill
LittleMachineShop.com 6450 HiTorque Mini Mill
SIEG SX2LF Mini Mill
Grizzly G0781 Mill/Drill
SIEG X2.7 Bench Mill
SIEG X2.7L Bench Mill
WEN 33075 WEN Bench Mill
LittleMachineShop.com 6500 HiTorque Bench Mill
LittleMachineShop.com 5500 HiTorque Bench Mill
SIEG SX2.7 Bench Mill
LittleMachineShop.com 5550 HiTorque Bench Mill
LittleMachineShop.com 6550 HiTorque Bench Mill
SIEG SX2.7L Bench Mill
Grizzly G0463 Mill/Drill
Harbor Freight 93885 Central Machinery Mill/Drill
SIEG X3 Small Mill
Woodstock International M1110 Shop Fox Small Mill
BusyBee CX611 Craftex Small Mill
Grizzly G0619 Mill/Drill
SIEG SX3 Small Mill
Travers Tools OT2225SX3 OTMT Small Mill
Grizzly G0704 Mill/Drill With Stand
Grizzly G0759 Mill/Drill With Stand
Grizzly G3102 Vertical Mill
Grizzly G3103 Vertical Mill
Harbor Freight 42976 Central Machinery Mill/Drill
SIEG X3.5 Large Bench Mill
LittleMachineShop.com 6700 HiTorque Large Bench Mill
LittleMachineShop.com 6750 HiTorque Large Bench Mill
Grizzly G0720 Bench Mill
Grizzly G0720R Bench Mill
Grizzly G0722 Bench Mill
SIEG SX4 Bench Mill
Harbor Freight 33686 Central Machinery Small Mill
Rong Fu RF-xx Milling & Drilling Machine
BusyBee CX705 Craftex Lathe Mill Combo
Grizzly G0516 Lathe Mill Combo
SIEG M6 Multi-purpose Machine