Collet Set, Taig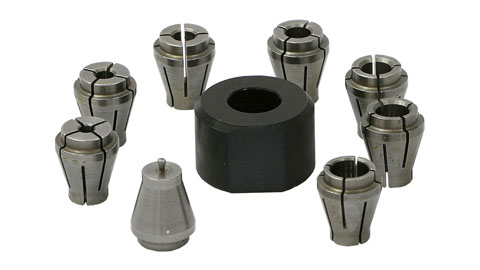 Material can be loaded quickly
Collets are very accurate
Maximum spindle speeds can be used
Includes collet closing nut
Includes collets 1/8", 5/32", 3/16", 7/32", 1/4", 9/32", 5/16" plus one blank collet
This collet set is made for Taig Micro Lathes and Micro Mills.
This collet set works with our 1915 arbor to make an economical small collet chuck for the mini lathe or mini mill. Collets are used to hold small diameter workpieces and small diameter end mills.
This set includes the collet closing nut and 8 collets. The collets are 1/8", 5/32", 3/16", 7/32", 1/4", 9/32", 5/16" plus one blank collet.
These collets normally accept material that is 0.001" inches over the collet size and 0.004" inches under the collet size. Bar stock is usually within this range.
Compatibility
This product works with these LittleMachineShop.com products: