Mini Mill CNC Conversion Plans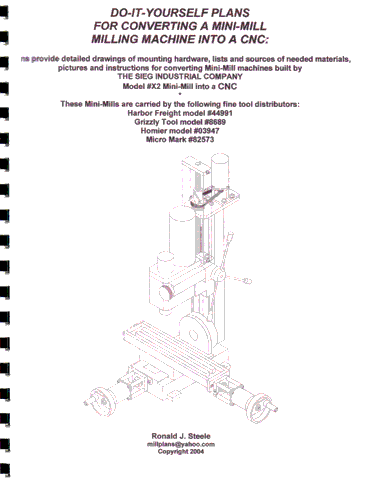 Plans to add CNC to a mini mill.
These Mini Mill CNC Conversion plans were created by Ronald J. Steele.
This is a complete set of plans to add CNC to a mini mill. These CNC mill conversion plans include a materials list with sources, plans for all the parts, and instructions for making the parts and installing them on the mini mill.
The only permanent change made to the mini mill is to drill and tap two holes.
Ron Steele says the cost of the hardware and materials, assuming you need to purchase everything, is about $160. The plans provide sources for all these items. The plans also provide several sources for the electrical parts and software. One kit includes software, 145 oz/in stepper motors, and a pre-wired boxed controller and sells for $645. It takes between 20 and 30 hours to machine the parts and bolt it all together.
Compatibility
This product works with the following mills. (If your machine is not on this list, we cannot verify compatibility.)
Bolton XJ-9510 Mill/Drill
Clarke CMD300 Milling Drilling Machine
Grizzly G8689 Mini Milling Machine
Hare & Forbes HM-10 Mill/Drill
Princess Auto 8507667 Powerfist Mini Mill
SIEG X2-MT3 Mini Mill
Micro-Mark 82573 MicroLux Milling Machine
BusyBee CX605 Craftex Mini Mill
Cummins (Tools Now) 7877 Mini Mill
Eastwood 32498 Mini Mill
Harbor Freight 44991 Central Machinery Mill/Drill
Homier 03947 Speedway Mini Mill
Northern Tool 49657 KLUTCH Mini Mill
Penn Tool Co XJ-9510-1 Precise Mini Mill
SIEG X2-R8 Mini Mill
Travers Tools OT2213 OTMT Mini Mill