Micrometer, 0-1" Digital CLOSEOUT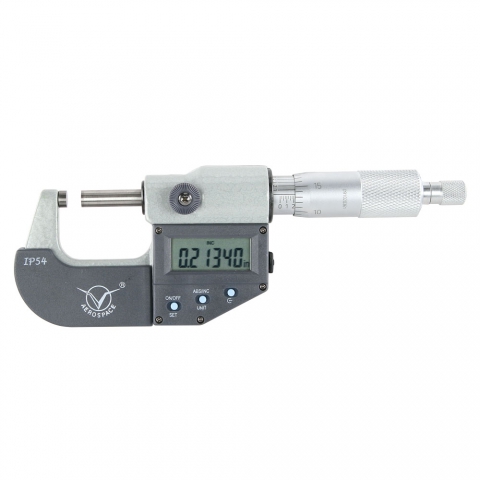 Measurement range is 0-1"
Resolution is 0.00005"
Protected from dust and water to IP54 per IEC529 standard
Large LCD display
Rugged plastic case
This digital electronic micrometer with carbide measuring faces has a resolution of 0.00005".
There are three buttons; ON/OFF, SET to zero the display, and ABS/INC to switch between absolute and incremental measurement. The micrometer turns itself off after about 5 minutes of inactivity.
Pressing ABS/INC zeros the micrometer at any position so you can make comparative readings between two parts. The absolute measurement is not lost, and is displayed by pressing ABS/INC again.
The IP54 code says that dust shall not penetrate in a quantity to interfere with satisfactory operation of the device or to impair safety, and water splashed against the device from any direction shall have no harmful effects.
Compatibility
This product works with these LittleMachineShop.com products: