Ball and Radius Turning Tool, Large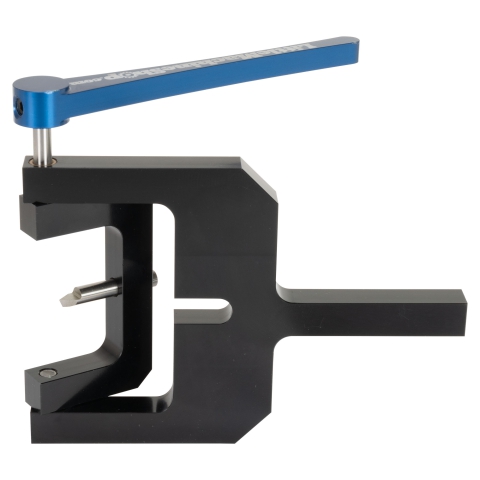 Turn round shapes or curves on metal mini lathe
For brass, aluminum, steel, plastic
Cut convex curves up to 1 3/4" in diameter
1/2" Shank
The Large Radius Ball Tool, like its smaller counterpart, is designed to cut round shapes or curves in brass, aluminum, steel, wood or plastic on your own lathe. Balls in the ends of rods, shafts, or handles are easily turned with the tool. You can also make ball joints, governor weights, railing knobs, round contact points for tools, nose cones, and many other useful and decorative objects.
The lathe radius turning tool is sized for lathes of 5" or greater swing, and the 1/2" shank size will fit most standard tool holders. The tool will cut convex curves up to 1 3/4" in diameter. This lathe ball turning attachment is designed so that the center height is 3/8" from the bottom of the shank. The tool comes with a pre-ground HSS tool bit which may be easily sharpened or modified.
This tool is manufactured from the highest quality materials. Frames and handle are machined from high strength aluminum alloy. The pivot pins are hardened and ground and rotate in custom bronze bearings. The tool is completely machined from solid metal stock, there are no stamped, cast or pressed parts. A pre-ground High Speed steel tool bit is included. Each lathe radius turning tool is manufactured in the USA for LittleMachineShop.com by Belfanti Toolworks and is carefully assembled and inspected before shipment in our warehouse.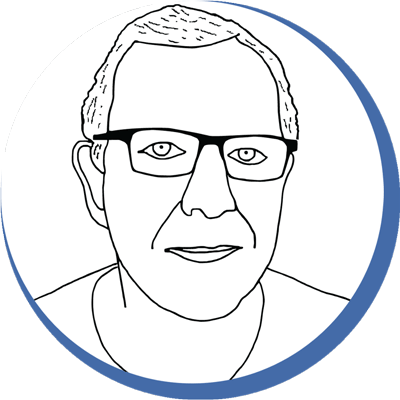 Chris' Tips
Here's a comparison of the ball and radius turning tools.Here are complete instructions for the Large Ball and Radius Turning Tool.Here are samples of work done with the Large Ball and Radius Turning Tool. The ball at lower right was turned from 1.5" diameter aluminum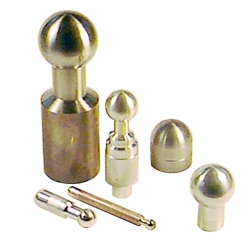 Here is an outline drawing of the Large Ball and Radius Turning Tool.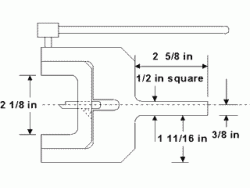 Here is the large ball and radius tool in use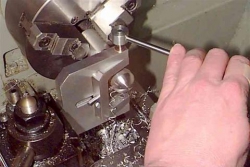 Here is a video showing how to use the ball and radius turning tool.
Specifications

| | |
| --- | --- |
| Maximum Convex Diameter | 1.75" (44.4 mm) |
| Maximum Concave Diameter | None |
| Minimum Convex Diameter | 0.0" (0 mm) |
| Minimum Concave Diameter | None |
| Tool Dimensions (L x W x H) Without Handle | 6.0" x 0.5" x 5.2" (152 mm x 13 mm x 133 mm) |
| Mount Dimensions (L x W x H) | 2.5" x 0.5" x 0.5" (64 mm x 13 mm x 13 mm) |
| Handle Length | 5.2" (133 mm) |
| Handle Height | 3" (76 mm) |
| Shank Size | 0.50" (12.7 mm) |
Compatibility
This product works with these LittleMachineShop.com products:
This product works with lathes with a 7 to 16 inch swing including:
Enco 110-0803 Enco 7x10 Mini Lathe
Harbor Freight 33684 Central Machinery 7x10 Mini Lathe
Harbor Freight 93212 Central Machinery 7x10 Mini Lathe
MSC 0192857 Enco 7x10 Mini Lathe
Bolton CQ9318 7x12 Mini Lathe
Busy Bee Tools CX704 Craftex 7x12 Mini Lathe
Cummins (Tools Now) 5278 7x12 Mini Lathe
Eastwood 32497 7x12 Mini Lathe
Grizzly G8688 7x12 Mini Metal Lathe
Harbor Freight 93799 Central Machinery 7x12 Mini Lathe
Homier 03911 Speedway 7x12 Mini Bench Metal Lathe
LittleMachineShop.com 1012 LittleMachineShop.com 7x12 Mini Lathe
LittleMachineShop.com 1014 LittleMachineShop.com 7x14 Mini Lathe
Northern Tool 49656 KLUTCH 7x12 Mini Lathe
Princess Auto 8507659 Powerfist 7x12 Mini Lathe
SIEG C2 7x12 Mini Lathe
Tormach 30689 7x12 Duality Lathe
Travers Tools OT222300 OTMT 7x12 Mini Lathe
Warco 3004 7x12 Mini Lathe (Metric)
Warco 3005 7x12 Mini Lathe (Imperial)
WEN 3455 WEN 7x12 Mini Lathe
Micro-Mark 82500 MicroLux 7x12 Mini Lathe
LittleMachineShop.com 4200 HiTorque 7x12 Deluxe Mini Lathe
LittleMachineShop.com 4100 HiTorque 7x12 Mini Lathe
SIEG SC2 7x12 Mini Lathe
Micro-Mark 82710 MicroLux 7x14 Mini Lathe
LittleMachineShop.com 4959 SIEG 7x14 Mini Lathe
SIEG C3 7x14 Mini Lathe
Big Dog BD-0618Ax300 7x14 Mini Lathe
Big Dog BD-0618x300 7x14 Mini Lathe
Warco 4820-350 7x14 Mini Lathe (Metric)
Warco 4800-350 7x14 Mini Lathe (Imperial)
Grizzly G0765 7x14 Mini Lathe
Micro-Mark 84631 MicroLux 7x16 Mini Lathe
LittleMachineShop.com 5100 HiTorque 7x16 Mini Lathe
LittleMachineShop.com 7350 HiTorque 7x16 Mini Lathe
LittleMachineShop.com 5200 HiTorque 7x16 Mini Lathe
Prazi SD400 7x16 Lathe
MX-8x14 Preenex (and others) 8x14 Lathe
Harbor Freight 44859 Central Machinery 8x12 Precision Mini Lathe
Grizzly G0768 8x16 Benchtop Lathe
Emco Compact 8 8x17 Lathe
LittleMachineShop.com 3536 HiTorque 8.5x16 Bench Lathe
SIEG SC4 8.5x16 Bench Lathe
SIEG C4 8.5x16 Bench Lathe
Travers Tools OT218410 OTMT 8x16 Bench Lathe
LittleMachineShop.com 3595 HiTorque 8.5x20 Deluxe Bench Lathe
LittleMachineShop.com 3540 HiTorque 8.5x20 Bench Lathe
LittleMachineShop.com 7500 HiTorque 8.5x20 Bench Lathe
LittleMachineShop.com 7550 HiTorque 8.5x20 Deluxe Bench Lathe
BD-920N Jet 9x20 Lathe
Grizzly G4000 9x19 Bench Lathe
Harbor Freight 45861 Central Machinery 9x20 Bench Lathe
SIEG C6 10x21 Lathe
Busy Bee Tools CX705 Craftex 10x21 Lathe Mill Combo
Grizzly G0516 10x21 Lathe Mill Combo
Prazi SD500 10x20 Lathe
SIEG M6 10x21 Lathe Mill Combo
SIEG C8 11x24 Lathe