Locking Lever, M6 Heavy Duty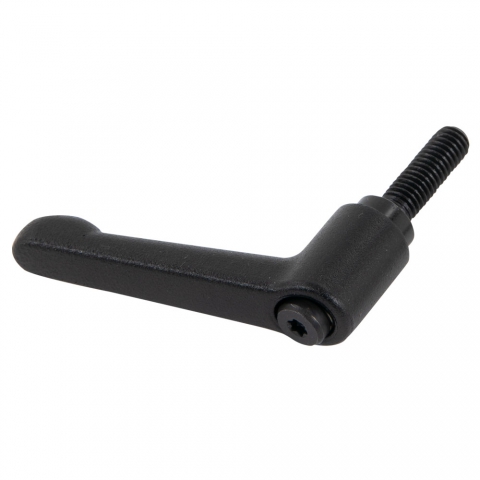 Thread is M6 x 1.0
Stud is 20 mm long
Handle is 45 mm long
This handle locks the X-, Y- and Z-axes on the mini mill.
This handle, which is made in Germany, is vastly superior to the standard handle that tends to strip out.
There are four of these locking handles on the mini mill.
The M6 stud is 20 mm long and the handle is 45 mm long from center of screw to handle tip.
See the Compatibility tab for machines and other products that work with this product.
Compatibility
This product works with these LittleMachineShop.com products:
This product works with the following mills. (If your machine is not on this list, we cannot verify compatibility.)
Bolton XJ-9510 Mill/Drill
Clarke CMD300 Milling Drilling Machine
Grizzly G8689 Mini Milling Machine
Hare & Forbes HM-10 Mill/Drill
Princess Auto 8507667 Powerfist Mini Mill
SIEG X2-MT3 Mini Mill
Micro-Mark 82573 MicroLux Milling Machine
BusyBee CX605 Craftex Mini Mill
Cummins (Tools Now) 7877 Mini Mill
Eastwood 32498 Mini Mill
Harbor Freight 44991 Central Machinery Mill/Drill
Homier 03947 Speedway Mini Mill
Northern Tool 49657 KLUTCH Mini Mill
Penn Tool Co XJ-9510-1 Precise Mini Mill
SIEG X2-R8 Mini Mill
Travers Tools OT2213 OTMT Mini Mill
SIEG X2P Mini Mill
LittleMachineShop.com 4962 SIEG Mini Mill
SIEG X2D Mini Mill
SIEG X2L Mini Mill
WEN 33013 WEN Mini Mill
BusyBee CX612 Craftex Mini Mill
SIEG SX2 Mini Mill
Micro-Mark 84630 MicroLux Mini Mill
LittleMachineShop.com 3900 HiTorque Mini Mill
SIEG SX2L Mini Mill
LittleMachineShop.com 4190 HiTorque Mini Mill
LittleMachineShop.com 3990 HiTorque Mini Mill
LittleMachineShop.com 3960 HiTorque Mini Mill
LittleMachineShop.com 6450 HiTorque Mini Mill
SIEG SX2LF Mini Mill
SIEG X2.7 Bench Mill
SIEG X2.7L Bench Mill
WEN 33075 WEN Bench Mill
LittleMachineShop.com 5500 HiTorque Bench Mill
LittleMachineShop.com 6500 HiTorque Bench Mill
SIEG SX2.7 Bench Mill
LittleMachineShop.com 6550 HiTorque Bench Mill
LittleMachineShop.com 5550 HiTorque Bench Mill
SIEG SX2.7L Bench Mill
Grizzly G0463 Mill/Drill
Harbor Freight 93885 Central Machinery Mill/Drill
SIEG X3 Small Mill
Woodstock International M1110 Shop Fox Small Mill
BusyBee CX611 Craftex Small Mill
Grizzly G0619 Mill/Drill
SIEG SX3 Small Mill
Travers Tools OT2225SX3 OTMT Small Mill