Tooling Package, HiTorque Deluxe Bench Lathe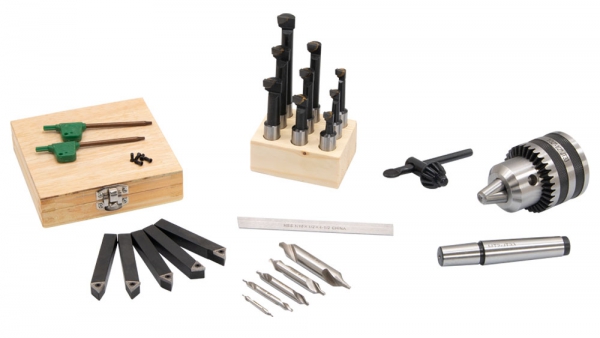 Tooling package for deluxe bench lathe
3/8" Indexable TCMT inserts, P1 cut-off blade
1/2" drill chuck, 2MT standard to 33JT drill chuck arbor
9-piece carbide boring bar set - 1/2" shank
5 center drills (sizes 1-5)
Part Number: 3164
Weight: 4.07 lb
$
85.95
Value Price
Purchased individually $96.74

This package contains all the tooling you need to be productive with your lathe on the first day you own it. It works with the LittleMachineShop.com HiTorque 8.5x16 or 8.5x20 bench lathe as well as other C4 and SC4 lathes.
The 1/2" capacity drill chuck is mounted on a standard 2 Morse taper shank. The rated capacity of the drill chuck is 1 mm (0.039") to 13 mm (0.512").
The set of 3/8" shank indexable turning tools includes 5 tools (TAR, TAL, TBR, TBL, TE), inserts, a wrench, and extra screws. It comes in a fitted case. The carbide inserts are TCMT21.51.
The carbide tipped 9-piece boring bar set includes three different length boring bars each for minimum bores of 5/16", 3/8", and 7/16". The bore depth ranges from 3/4" to 2-1/4". The heat treated, alloy steel shanks are held to 0.000 to -0.0005" from the nominal diameter.
The P1 parting blade is 5/64" x 1/2" x 4-1/2" and made from M2 HSS. These T-shape parting blades provide great side clearance.
This package includes 5 different sizes of combined drills and countersinks, commonly called center drills. The center drill set is high speed steel and includes sizes 1, 2, 3, 4, and 4. These are 60 degree center drills. These are the sizes that are most used by bench top machinists.
This tooling package does not include a quick change tool post because the HiTorque Deluxe Bench Lathe is equipped with a QCTP.
This product contains the following items:

| | Description | Qty |
| --- | --- | --- |
| | Arbor, Drill Chuck 2MT Standard to 33JT, P/N 2955 | 1 |
| | Boring Bar Set, 1/2" Shank, Carbide, P/N 1247 | 1 |
| | Center Drills, HSS, Set of 5 (Numbers 1-5), P/N 1230 | 1 |
| | Cut-Off Blade, P1, P/N 1929 | 1 |
| | Drill Chuck, 1/2", P/N 1212 | 1 |
| | Turning Tools, 3/8" Indexable, Triangle Inserts, P/N 1669 | 1 |