Screwdriver Set, Precision, Starrett 3178
(Discontinued)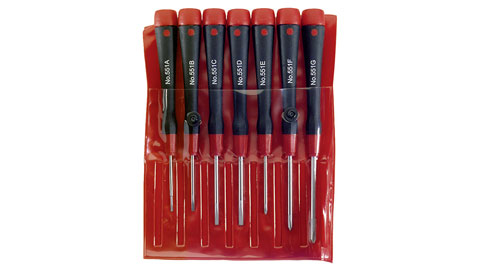 Set of 7 Starrett precision jewlers' screwdrivers in a case
Starrett catalog number S551Z-7
Set of 7 screwdrivers in a case
Durable hardened chrome-vanadium blade/contacts
Part Number: 3178
(Discontinued)
Weight: 0.43 lb
Price: $68.00


The Starrett No. 551 Screwdrivers with soft-touch handle are lightweight and have a very ergonomic design, making them easy to work with.
Yet the No. 551 is a rugged product. The blade/contacts are made of chrome-vanadium, molybdenum steel, hardened and chrome-plated, allowing them to hold up well in the toughest applications.
Soft-touch handles are tapered and proportioned to blade for rapid rotation and spin-free finger control cap provides precise turning and control
Flat Blade widths are: .060"/1.5mm, .080"/2.0mm, .100"/2.5mm, .120"/3.0mm
Three Phillips blades: #00, #0, and #1
The precision-machined tips are top quality for an exact fit.