Bench Block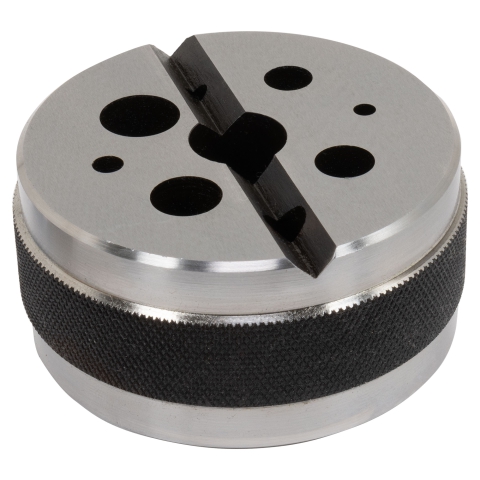 Made from steel; hardened and ground
Handy tool for holding work, driving pins, drilling and so on
Knurled edge provides a good grip
V-groove accommodates round and odd-shaped objects
Holes from 1/8" to 5/8" diameter
A must have tool in any machine shop, the bench block is ideal for holding work, drilling, driving pins, tapping, reaming and other similar functions.
This bench block is 3" in diameter and 1.5" thick. It has holes from 1/8" to 5/8" diameter which provide added alignment when drilling holes. (Note: a bench block can also be used outside of a machinist's context when drilling holes on vertical surfaces, such as with a hand drill.)
The V-groove accommodates round and odd-shaped stock and with the help of a clamp can help hold that stock in a stationary position for drilling.
The bottom is milled to be parallel with the top surface. The core of the tool is hollow to reduce weight and eliminate additional surface area which could cause a wobble when placing the bench block true on an anvil or table.
The knurled edge provides a good grip and covers a significant portion of the side surface.