Home Machinist's Handbook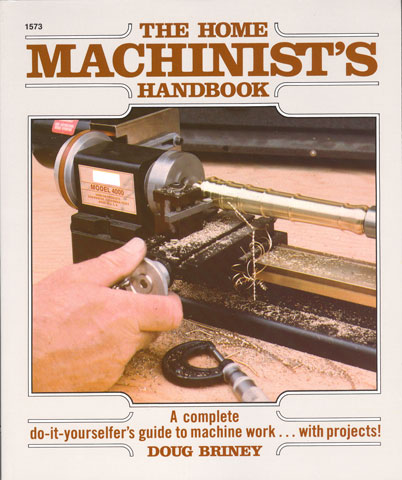 The Home Machinist's Handbook
By Doug Briney
275 pages, softcover, 7¾" x 9¼"
ISBN 0-8306-1573-3
Copyright 1983
Here's everything the do-it-yourselfer needs to set up, and operate a machine shop. Areas covered range from shop requirements and proper lighting to buying, using, and storing tools.
A lot has been written about machine tools and how they are used to make parts. Most books and literature on the subject are written in very technical terms for the professional machinist, someone interested in obtaining high-volume production rates at the lowest cost. These books assume that the machinist has unlimited funds and can equip a shop with the very latest and best equipment.
This book is different. It is written for the nonprofessional—someone who wants to work on a few projects at home. This book is written for the hobbyist who wants to make a few parts for a radio-controlled airplane or boat, the model railroader building a new locomotive, or the amateur horologist repairing a clock. It is intended for the inventor who needs a few parts to try out the latest idea, or the engineer who wants to build a prototype for a new product. This book is intended for you—to give you an understanding of the equipment, methods, and materials used in basic machine shop work.
Introduction Selecting Tools; Safety; Setting Up a Shop
1 Reading Prints Drawings; Dimensions; Tolerances; Metrics; Planning
2 Measurements Steel Rules; Squares; Simple Calipers; Vernier Calipers; Dial Calipers; Micrometers; Dial Indicators; Caution
3 Hand Tools Scribers; Punches; Hammers and Mallets; Files; Saws
4 Bench Tools Vises; Bench Grinders; Driling Machines; Taps and Dies
5 The Lathe Selecting a Lathe; Lathe Cutting Tools; Shaping and Sharpening Lathe Tools
6 Lathe Operation Mounting the Work; Basic Lathe Operations; Safety
7 Milling Machines Selecting a Milling Machine; Cutters; Collets; Setup Tools and Accessories
8 Milling Machine Operation Up and Down Milling; Controlling Dimensional Accuracy; Speeds and Feeds; Finishes; Safety
9 Material Selection Mechanical Properties of Materials; Hot-Rolled and Cold-Rolled Materials; Ferrous Metals; Stell Alloy Identification; Stainless Steels; Nonferrous Metals; Plastics
10 Heat Treating and Finishing Finish Machining and Polishing; Heat Treating Steel; Heat Treating in the Small Shop; Finishing and Coloring Metals
11 Projects Project 1: Center Punch; Project 2: Machinist's Jack; Project 3: Brass Mallet; Project 4: Ball Peen Hammer; Project 5: Setup Tool; Project 6: Parallel Bars; Project 7: Machinist's Clamp; Project 8: Angle Plate; Project 9: Sine Bar; Project 10: Ship's Cannon
Appendix Tables
Index