Chip Tray, 8.5x20 Bench Lathe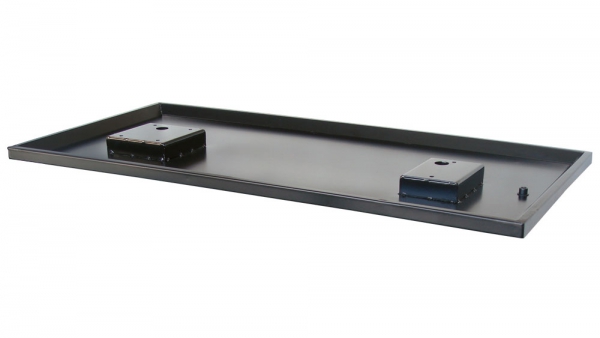 Metal chip tray, black
39.8" x 19.9" x 0.98" (1010 mm x 505 mm x 25 mm)
Fits SIEG C4 & SC4 and HiTorque 8.5x20 bench lathes
Holes align for securing compatible bench lathe
Available in tray only or on a stand
Chip tray for SIEG C4 & SC4 and HiTorque 8.5x20 bench lathes. Dimensions are 39.8" x 19.9" x 0.98" (1010 mm x 505 mm x 25 mm). Positioning blocks are predrilled for securing a compatible bench lathe.
This chip tray has been upgraded to be more robust than the trays that ship with most mini lathes.
Sold individually for bench mounting or on a stand cabinet. For full cabinet with tray, see product #3973.
See the Compatibility tab for machines that work with this product.
Compatibility
This product works with the following lathes. (If your machine is not on this list, we cannot verify compatibility.)
LittleMachineShop.com 3536 HiTorque 8.5x16 Bench Lathe
SIEG C4 8.5x16 Bench Lathe
SIEG SC4 8.5x16 Bench Lathe
Travers Tools OT218410 OTMT 8x16 Bench Lathe
LittleMachineShop.com 3540 HiTorque 8.5x20 Bench Lathe
LittleMachineShop.com 3595 HiTorque 8.5x20 Deluxe Bench Lathe
LittleMachineShop.com 7500 HiTorque 8.5x20 Bench Lathe
LittleMachineShop.com 7550 HiTorque 8.5x20 Deluxe Bench Lathe