Stand Cabinet, 8.5x20 Bench Lathe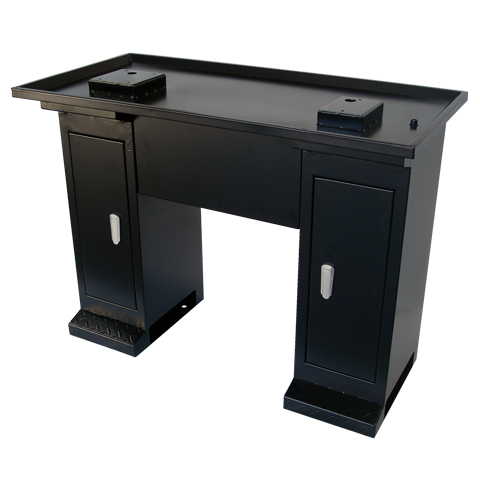 Metal stand and chip tray for bench lathe
Shipped disassembled, requires assembly
Fits SIEG C4 & SC4 and HiTorque 8.5x20 bench lathes
Holes align for securing compatible bench lathe
Also available as a single tray
This double column two door design black stand comes with two built in cabinets and a chip tray, and is suitable for all SIEG C4 & SC4 and HiTorque 8.5x20 bench lathes. The cabinet has one shelf.
The tray dimensions are 39.8" x 19.9" x 0.98" (1010 mm x 505 mm x 25 mm) and the overall height is 30.7" (780 mm). Positioning blocks are predrilled for securing a compatible bench lathe.
This chip tray has been upgraded to be more robust than the trays that ship with most lathes.
The stand has bolting slots for securing the stand to a floor for additional stability and safety.
See the Compatibility tab for machines that work with this product.
Specifications

| | |
| --- | --- |
| Overall Dimensions (W x D x H) | 39.8" x 19.9" x 30.7" (1010 mm x 505 mm x 780 mm) |
| Shipping Weight | 100 lbs (45 kg) |
| Shipping Dimensions (W x D x H) | 41" x 33" x 8" (1041 mm x 838 mm x 203 mm) |
Compatibility
This product works with the following lathes. (If your machine is not on this list, we cannot verify compatibility.)
LittleMachineShop.com 3536 HiTorque 8.5x16 Bench Lathe
SIEG C4 8.5x16 Bench Lathe
SIEG SC4 8.5x16 Bench Lathe
Travers Tools OT218410 OTMT 8x16 Bench Lathe
LittleMachineShop.com 3540 HiTorque 8.5x20 Bench Lathe
LittleMachineShop.com 3595 HiTorque 8.5x20 Deluxe Bench Lathe
LittleMachineShop.com 7500 HiTorque 8.5x20 Bench Lathe
LittleMachineShop.com 7550 HiTorque 8.5x20 Deluxe Bench Lathe
March 1, 2022 - Recent and unprecedented price increases in truck freight and gas prices, especially to residential addresses, has required us to increase the cost of our truck freight. We hope the future will see a return to normal and historical costs, but until then freight delivery costs have increased.
We ship stand cabinets by truck freight because our experience with UPS package services has resulted in too many stands being damaged in shipping. If you buy a stand with a mill or lathe, the cost of freight shipping for the machine covers the stand too; there is no extra charge to include the stand. (For shipments of this size, the freight companies' charge is the same regardless of weight.) If you buy a stand without a machine, we add the following shipping cost to your order total, same as for mills and lathes.
Destination:
Local*

Continental

US

Freight Terminal (pick-up)

Within 50 miles/1 hour of travel
Not all terminals allow pickup

$150
$175

Commercial Address (inc. Limited Access)

Set hours/No delivery appointment
Includes limited access (schools, military, etc.)

$99
$175

**Liftgate (Add liftgate if forklift or loading dock is not available onsite )

+$75

Residential Address

Includes delivery appointment and liftgage
for ALL Residential businesses

$99
$270
*"Local" refers to the parts of Southern California served by Hollywood Delivery Service.
**Liftgate service is included in Local delivery and Residential delivery. A loading dock or forklift is assumed in Commercial, if not available, please add this extra service.
Ensure you choose the correct type of delivery, have a dedicated contact person/number, and are ready on day of delivery.Freight companies charge an additional fee if delivery exceeds 30 minutes.
Notes
Only one shipping charge for entire pallet (up to 700 pounds total). The shipping charges shown above cover the cost of shipping the machine and anything else that you purchase with it, including a second machine, stand, tooling, and accessories.
A "commercial address" has a sign with company name, a public entrance and posted hours of operation. If you are running a business at your residence without a public entrance and posted company name and hours of operation it is considered a residence and a not commercial address.
A "limited access" designation is required for "Secured Locations" (s

chools, colleges, universities, university hospitals, military bases, government facilities

, etc

.

)

Please provide accurate details on delivery in special instructions.
"Terminal Pickup" allows for pickup at local terminal. If there is not a terminal within 50 miles (or 1 hour), we will confirm with you that you still want Terminal Pickup. Terminals tend to be near highways (usually miltiple intersecting) and industrial centers. Only certain terminals allow pick-up.
"Residential delivery"

 does not include moving machine into home/garage/wor

k

shop or any setup.

D

eliver

y is

to

start

of driveway

on the street that the

delivery truck can access

. (See inside delivery below)
For delivery to Alaska, Hawaii, or Puerto Rico
We will check with several trucking companies to get the best price and then call for your approval before we ship.
Canadian Shipments
Truck Freight shipping to Canada involves 3 distinct charges in addition to the product costs. (All amounts are in US Dollars, see the current mid-market exchange rate.)
Canadian Provincial Taxes (GST, PST, HST) depending on which province the shipment is going to. This will be 5% - 15% added to total sales amount depending on province (Canadian Sales Tax).
Hemisphere Customs Brokerage which handles all customs clearance requirements. This is a flat fee of $108 on any shipment.
Truck Freight from Southern California to destination in Canada. This is generally $300-$500 for residential liftgate delivery and appointment for single machine + tooling orders. Delivery to a terminal for pick-up or a commercial location with loading capabilities can reduce this cost substantially.
Quotes
To get a quotation that includes the shipping costs, add the products you want to the shopping cart and continue the checkout process until you reach the Payment page. On the Payment page, select the Quotation option. We will add the shipping costs and return a complete quotation to you within one business day.
Inside Delievery
Some carriers offer Inside Delivery which gets the machine inside one doorway or into your garage. If you select this we will confirm availability before shipping:
Local

Continental US

Inside Delivery

Gets the machine inside 1 threshold (NO stairs, NO gravel, NO tight corners, etc.)

This is simply pushing pallet jack to move crate a little closer to destination or up driveway into garage. NO Uncrating. NO Setup.

Once shipment in transit carrier can not change service or refund charge. CALL IF QUESTIONS...

$75
$100