Drawbar, Bench Mill, Quick Release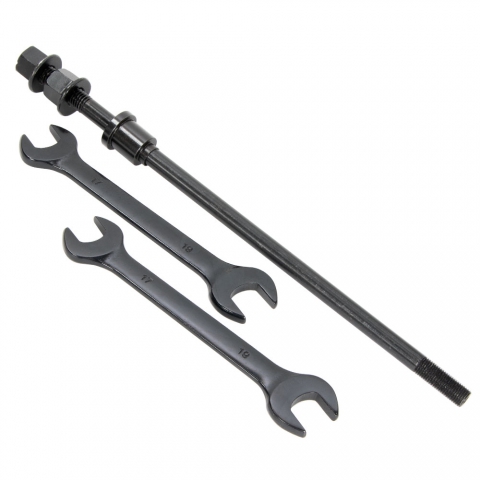 For SIEG SX2.7 class of bench mills
7/16"-20 thread
For R8 spindle
12.4375" (316 mm) when measured like a bolt
Eliminates need for spindle wrench
Part Number: 4327
Weight: 1.31 lb
Price: $29.95

This product is currently backordered.
Estimated availability:
Unknown
What is "estimated availability"?
Click this button if you want to receive an email notification when this product becomes available.
Quick release drawbar designed to easy tightening and release for R8 spindle bench mills without a spindle lock. This drawbar is compatible with SIEG SX2.7 class bench mills including the HiTorque Bench Mills.
To use, hold drawbar securly with one wrench and tighten/loosen secondary nut. The use of two wrenches at the top of the drawbar eliminates the need to use a spindle wrench to hold the spindle stationary with one hand while working with the drawbar. This drawbar is not necessary for bench mills that have a spindle lock.
The overall length of the drawbar is 12 7/16" in length (316 mm) when measured like a bolt. The bushing that centers the drawbar in the spindle has three steps with the diameter of each being 13 mm (0.512) 20 mm (0.788") 25 mm (0.984").
This drawbar can be used in place of the standard drawbar provided with any HiTorque Bench Mill (SX2.7), #50 in the SIEG SX2.7 drawings.
Compatibility
This product works with the following mills. (If your machine is not on this list, we cannot verify compatibility.)
SIEG X2.7 Bench Mill
SIEG X2.7L Bench Mill
WEN 33075 WEN Bench Mill
LittleMachineShop.com 5500 HiTorque Bench Mill
LittleMachineShop.com 6500 HiTorque Bench Mill
SIEG SX2.7 Bench Mill
LittleMachineShop.com 5550 HiTorque Bench Mill
LittleMachineShop.com 6550 HiTorque Bench Mill
SIEG SX2.7L Bench Mill