Lathe Chuck, 3-Jaw 6", Front Mount Reversible Jaws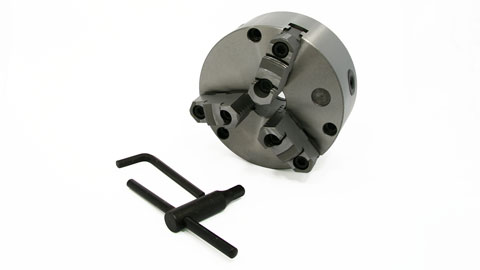 3-jaw self centering lathe chuck
6" (160 mm) diameter
Includes chuck key and reversible top jaws
Plain back mounting with bolts thru from the front
High quality steel, hardened and ground
This 6 inch 3-Jaw self-centering lathe chuck includes a chuck key, reversible top jaws, and mounting bolts.
This chuck has a 1.57" (40 mm) through hole. The chuck can hold work up to 5.70" (145 mm) in diameter.
This is a plain back chuck and requires a backplate adapter to mount it. Front mount chucks are designed to be used with rotary tables and other devices where back mounting chucks cannot be used.
The radial runout of a test bar held in this chuck, when the chuck is mounted true, is 0.004" maximum.
Specifications

| | |
| --- | --- |
| Rated Capacity, Inside Jaws | 0.12" - 2.17" (3.0 mm - 55.0 mm) |
| Rated Capacity, Jamming Range | 1.97" - 6.30" (50.0 mm - 160.0 mm) |
| Rated Capacity, Outside Jaws | 2.17" - 5.71" (55.0 mm - 145.0 mm) |
| Runout (Max) | ≤ 0.0032" (0.081 mm) |
| Diameter, Overall | 6.30" (160.0 mm) |
| Registration Recess Diameter | 5.12" (130.0 mm) |
| Registration Recess Depth | 0.20" (5.0 mm) |
| Bolt Circle Diameter | 5.59" (142.0 mm) |
| Center Hole Diameter | 1.77" (45.0 mm) |
| Height | 2.56" (65.0 mm) |
| Jaw Height Above Face | 1.18" (30.0 mm) |
| Height with Jaws | 3.74" (95.0 mm) |
| Number and Size of Bolts | 3 M8 |
| Chuck Key | 0.374" (9.50 mm) |
| Max RPM | 3600 RPM |
| Chuck Designation | K11-160 |