Cut-Off Blade, 1/16" x 7/32" x 3", M2 HSS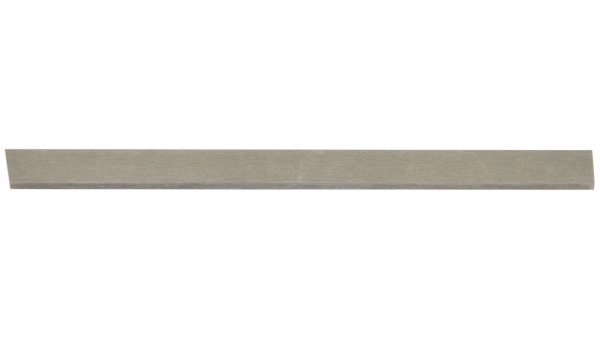 M2 High Speed Steel
Width: 1/16" (0.062"), Height: 7/32" (0.218"), Length: 3"
Used on 5106, 5107, and 5130 grooving & cut-off tools
1/16" (0.062") x 7/32" (0.218") x 3" M2 HSS cut-off blade.
This is a premium American-made M2 high speed steel cut-off blade made in the USA by Arthur R. Warner Co.
This is a replacement blade for LittleMachineShop.com grooving & cut-off tools parts 5106, 5107, and 5130.
Our Lathe Cut-Off Blade is made with M2 high speed steel, ensuring a long-lasting and reliable performance. It measures 1/16" x 7/32" x 3" and is perfect for all your lathe cutting needs. The M2 high speed steel provides excellent wear resistance. Whether you're a professional machinist or a DIY enthusiast, you can trust in the quality of our Lathe Cut-Off Blade for all your machining tasks.
M2 high speed steel is a popular choice for cutting tools due to its ability to maintain a sharp edge at high temperatures and its resistance to wear and deformation. It is made by adding molybdenum and tungsten to a basic high carbon steel alloy, resulting in a tool material that is tough and durable. Our Lathe Cut-Off Blade is made with this top-quality material, ensuring that it can handle even the most demanding machining tasks.
Our Lathe Cut-Off Blade is made in America and has been crafted with the utmost attention to detail. We stand behind the quality of our products and are confident that you will be satisfied with your purchase.
The Arthur R. Warner Co. is a family-owned American manufacturer of high speed steel products with specialization in cutting, shaping, pre-grinding, heat treating, and finish grinding of premium grades of flat high speed steel. Their quality is excellent and LittleMachineShop.com is proud to carry their products.
Compatibility
This product works with these LittleMachineShop.com products: