Grooving & Cut-Off Tool, 1/2" Shank, HSS Blade, A R Warner Kit #29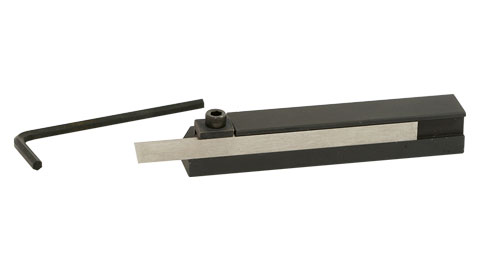 For external grooving and cut-off operations
Includes one 1/2" shank holder 3" overall length
Includes one 0.062" cut-off blade T-15 high speed steel
Blade is 7/32" (0.218") tall and 3" long
Includes One 7/64" Allen wrench
1/2" shank high speed steel grooving and cut-off tool for external grooving and cut-off operations. Includes one 1/2" shank holder which is 3 inches in length.
Also includes one 1/16" thick cut-off blade made of T-15 high speed steel.
The blade is 7/16" (0.218") tall and 3" long.
Made in the US by the Arthur R. Warner Co. The Arthur R. Warner Co. is a family-owned American manufacturer of high speed steel products with specialization in cutting, shaping, pre-grinding, heat treating, and finish grinding of premium grades of flat high speed steel. Their quality is excellent and LittleMachineShop.com is proud to carry their products.
Compatibility
This product works with these LittleMachineShop.com products: