Stand Cabinet, 7x12 Mini Lathe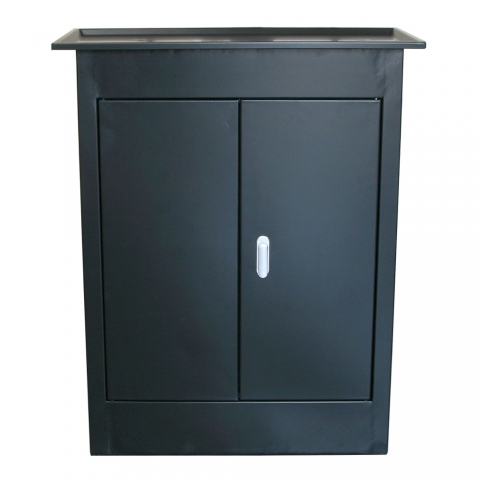 Metal stand and chip tray for mini lathe
Single column two door design
28.8" x 13.9" x 35.3" (732 mm x 352 mm x 896 mm)
Cabinet for storage with locking door
Fits SIEG C2, SC2, and HiTorque 7x12 mini lathes
This single column two door design black stand comes with a built in cabinet and is suitable for all 7x12 SIEG C2C/SC2, and HiTorque mini lathes. The cabinet has one shelf.
The tray dimensions are 28.8" x 13.9" x 0.63" (732 mm x 352 mm x 16 mm). Predrilled holes in tray are sized for securing a compatible mini lathe.
This chip tray has been upgraded to be more robust than the trays that ship with most mini lathes.
The stand has bolting slots for securing the stand to a floor for additional stability and safety.
See the Compatibility tab for machines that work with this product.
Specifications

| | |
| --- | --- |
| Height with Tray | 35.3" (896 mm) |
| Width with Tray | 28.8" (732 mm) |
| Width of Cabinet | 25.6" (650 mm) |
| Depth with Tray | 13.9" (352 mm) |
| Depth of Cabinet | 11.8" (300 mm) |
| Tray Usable Width (Flat Area) | 26.8" (680 mm) |
| Tray Usable Depth (Flat Area) | 11.8" (300 mm) |
| Cabinet Usable Width | 25.5" (648 mm) |
| Cabinet Top Shelf Usable Depth | 9.8" (250 mm) |
| Cabinet Top Shelf Usable Heigth | 16.4" (417 mm) |
| Cabinet Bottom Shelf Usable Depth | 9.1" (230 mm) |
| Cabinet Bottom Shelf Usable Height | 15.0" (380 mm) |
| Bolt Down Slots Distance On Center | 6.5" (165 mm) |
| Bolt Down Slots Width | 0.5" (13 mm) |
| Bolt Down Slots Depth | 1.4" (35 mm) |
Details of 7x12 C2C/SC2 Mini Lathe Stand Cabinet
| | |
| --- | --- |
| | Cabinet interior showing shelf |
| | |
Compatibility
This product works with the following lathes. (If your machine is not on this list, check with us before ordering.)
Bolton CQ9318 7x12 Mini Lathe
Busy Bee Tools CX704 Craftex 7x12 Mini Lathe
Cummins (Tools Now) 5278 7x12 Mini Lathe
Eastwood 32497 7x12 Mini Lathe
Grizzly G8688 7x12 Mini Metal Lathe
Harbor Freight 93799 Central Machinery 7x12 Mini Lathe
Homier 03911 Speedway 7x12 Mini Bench Metal Lathe
Northern Tool 49656 KLUTCH 7x12 Mini Lathe
Princess Auto 8507659 Powerfist 7x12 Mini Lathe
SIEG C2 7x12 Mini Lathe
Tormach 30689 7x12 Duality Lathe
Travers Tools OT222300 OTMT 7x12 Mini Lathe
Warco 3004 7x12 Mini Lathe (Metric)
Warco 3005 7x12 Mini Lathe (Imperial)
WEN 3455 WEN 7x12 Mini Lathe
Micro-Mark 82500 MicroLux 7x12 Mini Lathe
LittleMachineShop.com 4200 HiTorque 7x12 Deluxe Mini Lathe
LittleMachineShop.com 4100 HiTorque 7x12 Mini Lathe
SIEG SC2 7x12 Mini Lathe
We ship stand cabinets by truck freight because our experience with UPS package services has resulted in too many stands being damaged in shipping. If you buy a stand with a mill or lathe, the cost of freight shipping for the machine covers the stand too; there is no extra charge to include the stand. (For shipments of this size, the freight companies' charge is the same regardless of weight.) If you buy a stand without a machine, we add the following shipping cost to your order total, same as for mills and lathes.
| | | | |
| --- | --- | --- | --- |
| | Local | Far West | Other Continental US |
| Delivery to commercial address | $59 | $115 | $145 |
| Delivery to school or secured location | $79 | $155 | $175 |
| Liftgate, additional | Incl. | $20 | $20 |
| Delivery to freight terminal | $115 | $115 | $145 |
| Delivery to residential address (includes liftgate) | $79 | $175 | $195 |
"Local" refers to the parts of Southern California served by Hollywood Delivery Service.
"Far West" refers to ten western states: CA, OR, WA, AZ, NV, ID, UT, NM, CO, WY.
For delivery to Alaska, Hawaii, or Puerto Rico, we will check with several trucking companies to get the best price and then call for your approval before we ship.
For Canadian shipments we will provide an all-inclusive quotation for shipping, brokerage, and taxes. The brokerage fees are $108. The taxes vary by province. If you have a customs broker or want to self-clear customs please let us know.
We ship machines only to the US and Canada.
The shipping charges shown above cover the cost of shipping the machine/stand and anything else that you purchase with it, including a second (and third) machine, up to 700 pounds total.
A "commercial address" has a company name, a public entrance and posted hours of operation. If you do not have a forklift or loading dock at your place of business, you must add the liftgate fee. If you are running a business at your residence without a public entrance and posted company name and hours of operation it is considered a residence and a not commercial address.
Schools, colleges, universities, university hospitals, military bases, government facilities and other secured locations are charged a limited access fee that is included in the amounts in the chart above.
If you choose Terminal Pickup, and there is not a terminal within 30 miles, we will confirm with you that you still want Terminal Pickup.
Liftgate service is included in the residential delivery fee. The trucking company will call you to schedule the delivery.
We offer inside delivery which gets the stand inside one doorway or into your garage:
Local

Far West

Other Continental US

Inside Delivery
Gets the stand inside 1 threshold
Includes liftgate service
$20
$75
$75