Chip Tray, 7x12 Mini Lathe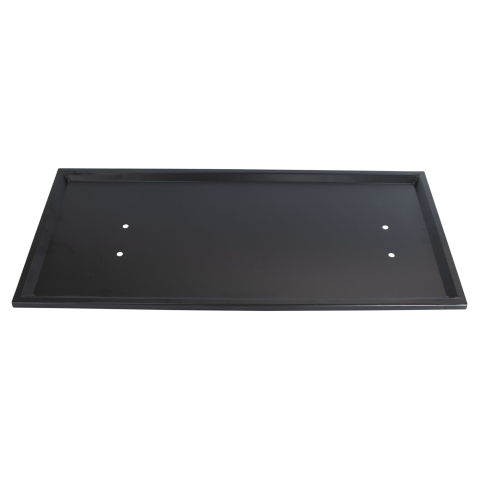 Metal chip tray, black
28.8" x 13.9" x 0.6" (732 mm x 352 mm x 16 mm)
Fits SIEG C2, SC2, and HiTorque 7x12 mini lathes
Holes align for securing mini lathe
Available in tray only or on a stand
Chip tray for SIEG C2, SC2, and HiTorque 7x12 mini lathes. Dimensions are 28.8" x 13.9" x 0.6" (732 mm x 352 mm x 16 mm). Predrilled holes in tray are sized for securing a compatible mini lathe.
This chip tray has been upgraded to be more robust than the trays that ship with most mini lathes.
Sold individually for bench mounting or on a stand cabinet. For full cabinet with tray, see product #5624.
See the Compatibility tab for machines that work with this product.
Specifications

| | |
| --- | --- |
| Width Overall | 28.8" (732 mm) |
| Usable Width | 26.8" (680 mm) |
| Depth Overall | 13.9" (352 mm) |
| Usable Depth | 11.8" (300 mm) |
| Height Overall | 0.6" (16 mm) |
Compatibility
This product works with these LittleMachineShop.com products:
This product works with the following lathes. (If your machine is not on this list, we cannot verify compatibility.)
Bolton CQ9318 7x12 Mini Lathe
Busy Bee Tools CX704 Craftex 7x12 Mini Lathe
Cummins (Tools Now) 5278 7x12 Mini Lathe
Eastwood 32497 7x12 Mini Lathe
Grizzly G8688 7x12 Mini Metal Lathe
Harbor Freight 93799 Central Machinery 7x12 Mini Lathe
Homier 03911 Speedway 7x12 Mini Bench Metal Lathe
LittleMachineShop.com 1012 LittleMachineShop.com 7x12 Mini Lathe
LittleMachineShop.com 1014 LittleMachineShop.com 7x14 Mini Lathe
Northern Tool 49656 KLUTCH 7x12 Mini Lathe
Princess Auto 8507659 Powerfist 7x12 Mini Lathe
SIEG C2 7x12 Mini Lathe
Tormach 30689 7x12 Duality Lathe
Travers Tools OT222300 OTMT 7x12 Mini Lathe
Warco 3004 7x12 Mini Lathe (Metric)
Warco 3005 7x12 Mini Lathe (Imperial)
WEN 3455 WEN 7x12 Mini Lathe
Micro-Mark 82500 MicroLux 7x12 Mini Lathe
LittleMachineShop.com 4200 HiTorque 7x12 Deluxe Mini Lathe
LittleMachineShop.com 4100 HiTorque 7x12 Mini Lathe
SIEG SC2 7x12 Mini Lathe