Lathe Chuck, 4-Jaw 4", Independent, Premium, Harlingen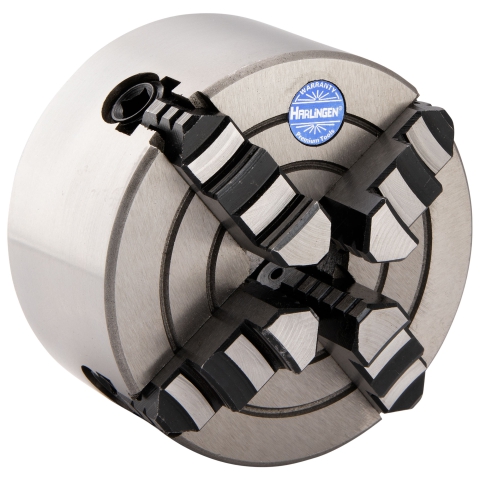 Independent 4-Jaw lathe chuck
4" (100 mm) diameter
High quality components for enhanced wear-resistance
Includes chuck key, inside and outside jaws
Harlingen 4 inch 4-jaw independent lathe chuck. The Harlingen chucks have similar specifications to our other lathe chucks in terms of clamping range however they have a better runout and the material construction of the chuck is better.
The chuck body is made of wear-resistant cast iron with a higher hardness than similarly made lathe chucks.
The cover plate, scroll plate and pinions are all constructed of higher quality steels for added strength and resistance to wear.
The jaws are made of 1045 hardened carbon steel and manufactured for precise fit and clamping performance.
Each chuck has in individual serial number and inspection report.
See the Compatibility tab for machines and other products that work with this product.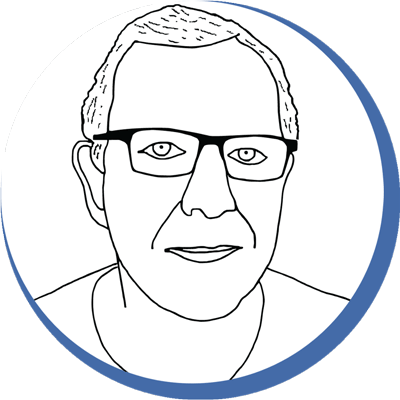 Chris' Tips
Some people want a chuck that can hold larger diameters. 4" chucks work well on the mini lathe, but it is possible to use a 5" chuck on the mini lathe.

Mount this chuck on a mini lathe with one of our chuck adapters. Or purchase a chuck with an adapter already mounted.

Here are instructions for centering work in a 4-jaw chuck. It's easy if you follow this procedure.

Here is a chart that provides lathe chuck capacities and mounting dimensions.
Specifications

| | |
| --- | --- |
| Rated Capacity, Inside Jaws | 0.24" - 1.77" (6.0 mm - 45.0 mm) |
| Rated Capacity, Outside Jaws | 1.57" - 3.94" (40.0 mm - 100.0 mm) |
| Runout (Max) | ≤ 0.002" (0.05 mm) |
| Diameter, Overall | 3.94" (100.0 mm) |
| Registration Recess Diameter | 2.83" (72.0 mm) |
| Registration Recess Depth | 0.14" (3.5 mm) |
| Bolt Circle Diameter | 3.31" (84.0 mm) |
| Center Hole Diameter | 0.98" (25.0 mm) |
| Height | 2.13" (54.0 mm) |
| Jaw Height Above Face | 0.79" (20.0 mm) |
| Height with Jaws | 2.91" (74.0 mm) |
| Number and Size of Bolts | 4 M8 |
| Chuck Key | 0.31" (8.0 mm) |
| Chuck Designation | K72-100 |
| | |
| --- | --- |
| | Back View |
| | H-Groove |
| | Scroll plate and pinions |
| | Hardened pinions |
| | Scroll Plate |
| | Chuck Jaw |
| | Chuck Key |
Compatibility
This product works with these LittleMachineShop.com products:
This product works with lathes with a 100 mm flange chuck mount including:
Northern Tool 49656 KLUTCH 7x12 Mini Lathe
Big Dog BD-0618Ax300 7x14 Mini Lathe
Big Dog BD-0618x300 7x14 Mini Lathe
LittleMachineShop.com 5200 HiTorque 7x16 Mini Lathe
LittleMachineShop.com 5100 HiTorque 7x16 Mini Lathe
LittleMachineShop.com 7350 HiTorque 7x16 Mini Lathe
LittleMachineShop.com 7450 HiTorque 7x16 Mini Lathe
MX-8x14 Preenex (and others) 8x14 Lathe
Harbor Freight 44859 Central Machinery 8x12 Precision Mini Lathe
Grizzly G0768 8x16 Benchtop Lathe
LittleMachineShop.com 3536 HiTorque 8.5x16 Bench Lathe
SIEG C4 8.5x16 Bench Lathe
SIEG SC4 8.5x16 Bench Lathe
Travers Tools OT218410 OTMT 8x16 Bench Lathe
LittleMachineShop.com 3540 HiTorque 8.5x20 Bench Lathe
LittleMachineShop.com 3595 HiTorque 8.5x20 Deluxe Bench Lathe
LittleMachineShop.com 7500 HiTorque 8.5x20 Bench Lathe
LittleMachineShop.com 7550 HiTorque 8.5x20 Deluxe Bench Lathe