Quick Change Tool Holder - Lathe Bit Rapid Retractor, 0XA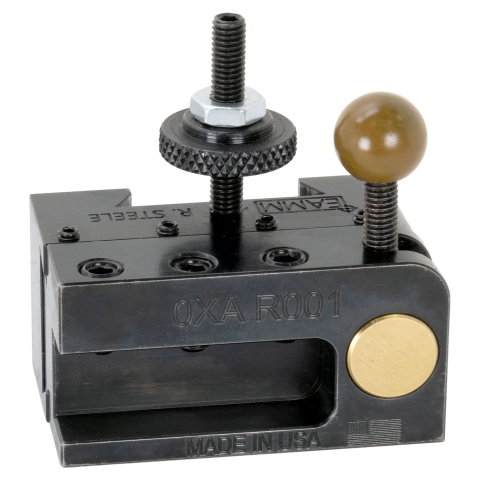 Works with 0XA tool post
Makes threading easier and safer
Made in the USA
The Rapid Retractor is a product conceived by our own Home Machinist Community (by Ronald J. Steele) and built right here in America. Made to fit the 0XA quick change tool post and allows for the rapid retraction of a tool bit during thread cutting operations on a manual lathe.
Insert and secure a threading tool bit in the rapid retractor holder, put the rapid retractor in your 0XA tool post, and tighten in place.
Move the rapid retractor toggle handle into the down position and use your lathe positioning to locate your bit to its starting place for cutting a thread. Cut your thread as you would normally, but at the end of your thread cut rather than having to quickly crank back your cross feed you simply flip up the toggle lever to rapidly retract the bit. It snaps your bit back approximately 0.200".
You may now easily move your tool back to its starting location for cutting your next pass of the thread you are cutting. Move the toggle lever down to reset your tool bit back to cutting position and take your next pass.
| | |
| --- | --- |
| | Lever up retracts bit |
| | Lever down engages bit |
| | Tool bit retracted position |
| | Tool bit engaged position |
| | Tool bit retracted from work piece |
| | Tool bit engaged to work piece |
Compatibility
This product works with these LittleMachineShop.com products: