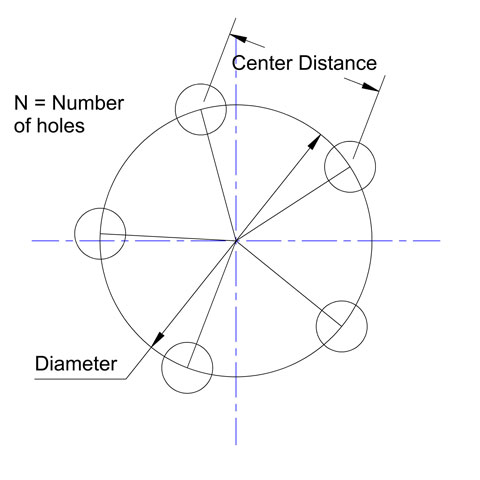 Enter values below to calculate the diameter of a bolt circle.
Tip:
To measure the center distance between two holes of equal diameter with an electronic caliper.
1. Use the inside jaws to measure the diameter of one of the holes. Before you remove the caliper from the hole, press the button to zero the caliper while it is set to the diameter of the hole.
2. Still using the inside jaws, measure the distance between the far surfaces of the two holes. The caliper reading is the distance between centers of the two holes.
QCTP Set easily mounts to 7x10, 7x12, 7x14, 7x16 lathes
3/8" indexable TCMT inserts, P1N cut-off blade
9-piece carbide boring bar set - 3/8" shank
1/2" drill chuck, 2MT short to 33JT drill chuck arbor
4 center drills (sizes 1-4)

Kool Mist model 60M18, mist spray system
18" Lock-Line® spray positioner
Heavy-duty magnetic base
Adjustable coolant nozzle
4' coolant and air hoses

Provides detailed knowledge in choosing, installing and operating a milling machine for your shop
By Harold Hall
119 pages, softcover, 5½" x 8½"
ISBN 978-1-56523-769-8
Copyright 2013