Lathework for Beginners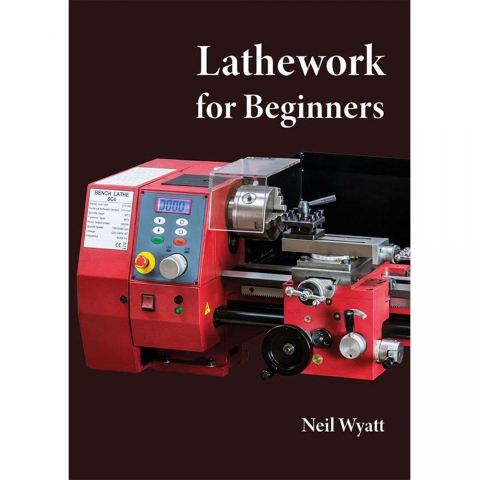 Lathework for Beginners by Neil Wyatt
103 pages, hardcover 8.5" x 12"
Published October 2020
Based on SIEG SC4 Bench Lathe
ISBN: 987-1-8382054-0-9
Publishers Description:
A lathe is one of the most capable and versatile of machine tools, but its very flexibility can make it challenging for beginners to get good results.
This book is written with the aim of helping beginners understand their machine and get the best from it while working safely. It covers everything from finding your way around the various controls and adjustments on the lathe to advanced techniques such as boring and screw cutting.
It also covers accessories, ideas and techniques that will be of interest to more experienced metalworkers as well as giving much general advice on running a small workshop.
Based around the SIEG SC4-510 lathe, an up-to-date and well featured machine, the author has taken care to keep the content as generic as possible to make it equally useful to the user of any modern bench lathe.
- - -
Published: 10/15/2020
The lathe used in this book is comparable to our HiTorque bench lathes models 7500/7550.
The book has 103 pages, is hardback and has 310 color photos and illustrations.
Lathework for Beginners Table of Contents

1 - Introducing the Lathe
The SIEG SC4 Lathe; On the Origin of Lathes; Choosing Your Lathe; Simple Safety
2 - Basic Turning
3 - Cutting Tools
Pre-Ground HSS Tools; More on Knife Tools; Tangential Tools; Brazed Carbide Tools; Indexable Carbide Tools; Insert Codes; Toolholder Codes; Depth of Cut; Using Indexable Carbide Tools; Cutting Speeds
4 - Making Holes
Drilling; Reaming; Boring; Boring Small Holes; Tapered Holes; Blind Holes
5 - Workholding
3-Jaw Self Centring Chucks; Maximising 3-Jaw Accuracy; Other Self-Centring Chucks; 4-Jaw Independent Chucks; Collets; Mounting Chucks; Turning Between Centres; Faceplate; Fixed Steady; Travelling Steady; Custom Steadies; Specialist Mandrels
6 - Screwcutting
Taps; Dies; Using Taps and Dies on the Lathe; Tailstock Turret; Single Point Screwcutting; Setting Up Change Gears; Screwcutting Tools; Cutting an External Thread; More Screwcutting Tips; Angled Topslide; Double Feed; Internal Threads; Screwcutting a Long Thread; Using a Spring Tapping Guide
7 - Toolholding
Clamp Style Toolposts; Standard 4-way Toolpost; Quick Change Toolposts (QCTP); Round Tools; Tool Height Gauges; Centre Squares
8 - Working to Size
Making A Router Guide Bush
9 - Milling on the Lathe
Lathe or Mill?; Toolholding; Workholding; Clamping Tips; Guards; Basic Milling; Drilling; Milling Slots; The Final Cut
10 - Cutting Balls and Spheres
Form Tools; Radius Turning Tool
11 - Miscellaneous Tasks
Cross Drilling Rods and Tubes; Preventing Rust; Filing in the Lathe; Centres and Centre Drills; Make a Bed Protector; Keep Sharp; Quick Alignment; Balanced Handles; Cutting Fluids; Marking Blue and Engineers Blue; Grinders; Setting Up Change Wheels for Screw Cutting; Clearing Swarf; Shims; Shine a Light; Parting Small Work
12 - Building Your Confidence and Skills
Be Confident; Familiarity Breeds Contempt; Be Inventive; Tools Don't Always Need to be on Centre Height; HSS is Your Friend; Solid as a Rock; Never Throw Anything Away!; Keep It Clean
13 - Trust Your Senses, Build your Skills
Build Your Skills