Milling for Beginners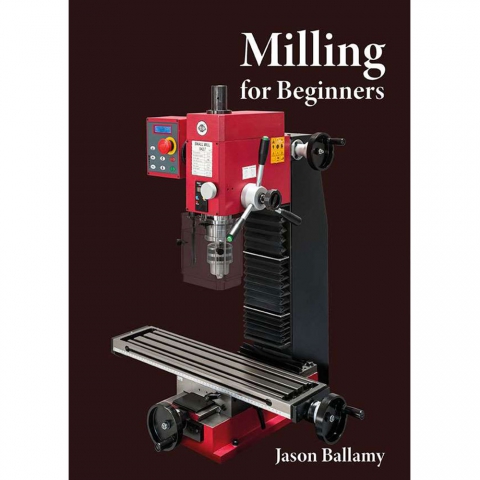 Milling for Beginners by Jason Ballamy
101 pages, hardcover 8.5" x 12"
Published October 2020
Based on SIEG SX2.7 milling machine
ISBN: 987-1-8382054-1-6
Publishers Description:
A milling machine is an essential requirement for a metalwork shop.
This book is written to help beginners understand and equip a small vertical mill and get the best from it. It starts with a description of the different parts of the mill, spindle tapers and tooling, workholding equipment and a wide variety of cutting tools before going on to make some cuts.
More advanced workholding and positioning techniques using collet blocks and indexers are also explained as well as dividing and some of the many other uses for a rotary table.
Based around the SIEG SX2.7 milling machine the book goes on to demonstrate how to accurately machine and measure a practice piece before finishing off with the setting-up and machining of some odd shaped model engine castings.
- - -
Published: 10/15/2020
The mill used in this book is comparable to our HiTorque bench mills, models 6500 and 6550.
The book has 101 pages, is hardback and has 234 color photos and illustrations.
Milling for Beginners Table of Contents

1 - Getting to Know your Mill
Positioning the Mill; Types of Spindle Taper; Morse Taper; R8 Taper; INT/ISO/DIN Tapers; Inter-changeability with the Lathe; Other Useful Items
2 - Taper Tooling
Direct Fit / Finger Collets; End Mill Holders; Collet Chucks; Drill Chucks; Boring Heads; Boring and Facing Heads; Stub Milling Arbors; Fly Cutters; Shell Mill Arbors
3 - Work Holding Equipment
Clamps and Clamping Sets; Vices; Parallels; Angle Blocks; Vice Stops; Angle Plates; Adjustable Tables; Rotary Tables; Spin Indexers; Collet Blocks; Vee Blocks; 10-20-40, 15-30-60, 20-40-80 & 1-2-3 Blocks; Chucks
4 - Cutting Tools
Milling Cutters; End Mills (2-flute cutters); End Mills (4-flute cutters); End Mills (3-flute cutters); Roughing Cutters; Material Specific Cutters; Ball Nose Cutters; Corner Radius Cutters; Corner Rounding or Round Over Cutters; Dovetail Cutters; Chamfer Cutters; Tee Slot and Woodruff Cutters; Shank Types; Other Cutting Tools - Drills; Centre Drills and Spot Drills; Countersinks and Counterbores; Step and Cone Drills; Reamers; Taps; Slitting Saws; Hole Saws; Trepanning Tool
5 - Marking Out and Measuring Tools
Basic Hand Tools; Scribing Blocks and Height Gauges; Digital, Dial and Vernier Calipers; Micrometers; Depth Micrometers; Bore Measuring; Edge Finders; Dial Test Indicators (DTI) and Dial Gauges; Co-axial Indicator; Angle Measurement; DRO (Digital Read Out)
6 - Making Some Basic Cuts
Vice Mounting; Cutter Holding; Using an End Mill (4 flute cutter) For Flat Surfaces; Using an End Mill (4 flute cutter) For Edge/End Cutting; Using an End Mill (4 flute cutter) To Cut Rebates
7 - Using a 2-Flute Cutter and Squaring up a Rough Block
Using a 2-flute cutter for Open Ended Slots; Using a 2-flute cutter to Cut Stopped Slots; Using a 2-Flute Cutter to Drill Holes; Material Specific 2-Flute Cutters; Squaring Up an Uneven Block
8 - Facemills, Flycutters, Single Point Cutting and Slitting Saws
Face or Shell Mills; Flycutters; Single Point Cutters; Safety; Slitting Saws
9 - Drilled Holes, Countersinks and Counterbores
Drilling Deeper Holes; Cleaning up the Burrs; Drilling Through Thin Materials; Angled Surfaces; Countersinks; Counterbores
10 - Larger Holes and Use of Boring Heads
Hole Saws; Boring Heads; Stitch Drilling; Safety
11 - Work Holding
Nuts, Studs and Clamps; Machine Vices; Angle Plates; Holding Work at an Angle
12 - Indexing and Dividing
Basic Indexing; Indexing with Collet Blocks; Indexers; Dividing; Compound and Electronic Dividing
13 - Using the Rotary Table
Horizontal Use; Vertical Use; Angled Use; Work and Tool Positioning
14 - Threading
Machine Taps; Machine Tapping
15 - Backlash Compensation, Boring and Tapping
Backlash; Locating the Datum; Boring the Main Hole; Drilling & Tapping the Smaller Holes
16 - Dealing with Castings
Appendices
1 - Correct Operation of X2.7 & SX2.7 Machines
X2.7 and SX2.7 Quill Lock; X2.7 and SX2.7 Fine Feed Engagement; Quill Wrench; Chuck Guards; Correct Turning On/Off Procedure (SX2.7); Control Panel Operation (SX2.7); Selecting Tapping Mode (SX2.7 only); Control Panel Operation (SX2.7 Update)
2 - Correct Fitting and Removal of ER Collets
3 - Links to Video
Flat Face Cut; Edge or End; Rebate; Dividing; Boring & Tapping
4 - Fly Cutter Tool