Quick Change Tool Post Set, AXA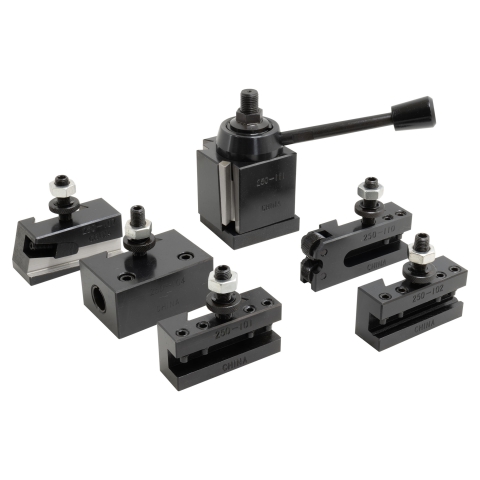 Quick change tool post set for lathes with up to 12" swing
AXA, or series 100 size
Tool holders interchange with Aloris, Dorian, and Phase II
All steel construction
Includes five tool holders
AXA, or series 100, wedge type quick change tool post set.
This AXA quick change tool post set is designed for lathes with up to 12" swing.
It is a good fit on 9x20 lathes, but requires some modification or our mounting sleeve.
Many people feel that these tool posts are too large for mini lathes, but others like the mass and rigidity they provide.
All working parts are hardened and ground. This lathe tool post set is completely sealed for maintenance-free operation.
The tool holders interchange with Aloris, Dorian, and Phase II.
This lathe tool post set includes the tool post and the following tool holders:
No. 1 - Turning & Facing Tool Holder
No. 2 - Boring, Turning & Facing Tool Holder
No. 4 - Heavy Duty Boring Tool Holder, will hold 5/8" or 3/4" round shanks.
No. 7 - Universal Parting Blade Holder
No.10 - Knurling, Facing & Turning.
This set includes a 9/16"-18 threaded stud and a piece of steel from which you can make a T-slot nut to fit your lathe.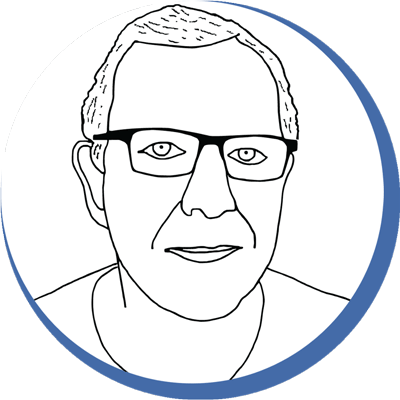 Chris' Tips
This QCTP is not a bolt-on accessory for the mini lathe. Optionally, you can use one of our compound rest bottoms that has been milled down 1/4" to use this QCTP on a min lathe.

See the comparison chart of the quick change tool post sets we carry.

This QCTP is a good fit for the 9x20 lathe. it is a bolt-on accessory with the addition of our 3712 Quick Change Tool Post Mount, AXA for 9x20 LathesHere are instructions for mounting the QCTP on many different lathes.
Compatibility
This product works with these LittleMachineShop.com products:
This product works with lathes with a 8 to 12 inch swing including:
MX-8x14 Preenex (and others) 8x14 Lathe
Harbor Freight 44859 Central Machinery 8x12 Precision Mini Lathe
Grizzly G0768 8x16 Benchtop Lathe
Emco Compact 8 8x17 Lathe
LittleMachineShop.com 3536 HiTorque 8.5x16 Bench Lathe
SIEG C4 8.5x16 Bench Lathe
SIEG SC4 8.5x16 Bench Lathe
Travers Tools OT218410 OTMT 8x16 Bench Lathe
LittleMachineShop.com 3540 HiTorque 8.5x20 Bench Lathe
LittleMachineShop.com 3595 HiTorque 8.5x20 Deluxe Bench Lathe
LittleMachineShop.com 7500 HiTorque 8.5x20 Bench Lathe
LittleMachineShop.com 7550 HiTorque 8.5x20 Deluxe Bench Lathe
BD-920N Jet 9x20 Lathe
Grizzly G4000 9x19 Bench Lathe
Harbor Freight 45861 Central Machinery 9x20 Bench Lathe
SIEG C6 10x21 Lathe
Busy Bee Tools CX705 Craftex 10x21 Lathe Mill Combo
Grizzly G0516 10x21 Lathe Mill Combo
Prazi SD500 10x20 Lathe
SIEG M6 10x21 Lathe Mill Combo
SIEG C8 11x24 Lathe