Set Screw, M5x6, Socket Cone Point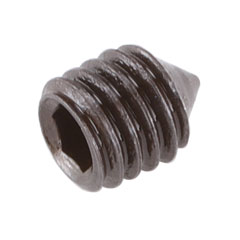 M5x6 Set Screw
Socket Drive
Cone Point
Used on numerous mills and lathes
M5x6 set screws used on the SC4 bench lathe in three different places on the machine (4 screws in total).
- Two set screws fit into the pair of carriage shaft positioning rings (drawing # 272 - part #5811)
- One set screw fits into the first worm wheel shaft sleever (drawing #313 - part #5332)
- One set screw fits into the second worm wheel shaft sleeve (drawing #315 - part # 5333)
Set Screw part # 223 on SC4 parts diagram (SC4-267).
Cone point set screw, M5x5 common in bench mills Z-Axis gearing. The screw has a socket drive.
See Used On tab for reference to machines using this part and the corresponding drawing number.